Create Relevant Content for Industrial Buyers
---
As a parts manufacturer, probably one of your biggest challenges is creating relevant content to engage with industrial buyers. You are not alone if you are facing this problem in manufacturing content marketing.
68% of manufacturing marketers reported their top challenge was "Creating content that appeals to multi-level roles within the target audience(s)." (Source: Manufacturing Content Marketing 2019: Benchmarks, Budgets, and Trends—Content Marketing Institute/MarketingProfs).

Importance of relevant content in manufacturing marketing
I'm sure you've heard and read all the buzz around content marketing for generating quality leads. If you've been using this strategy, you also know that just publishing content doesn't produce results. Then why bother if it is so difficult and time-consuming?
Content does matter in the industrial buying journey. Learn more about the "Top 10 preferences and purchasing habits in the industry" infographic.
There is a correlation between the size of the industrial purchase and the number of content pieces reviewed during the buying process. The chart below from IEEE GlobalSpec shows how the two are related.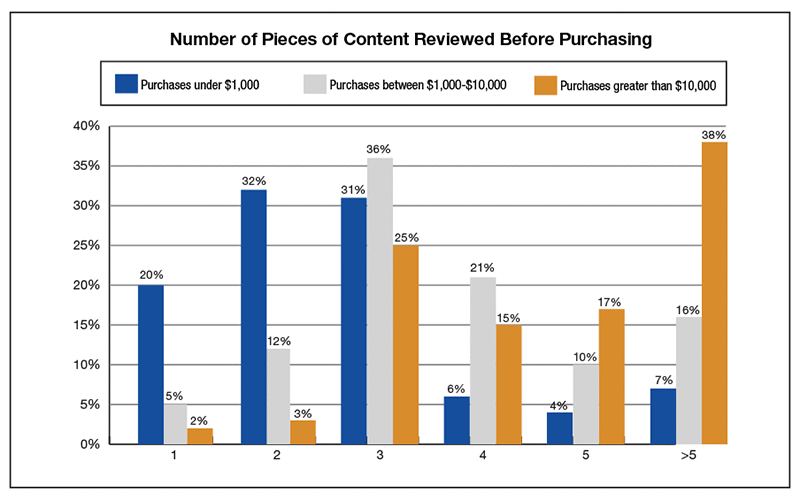 Think outside the box for content that buyers want
Product datasheets and specifications are necessary and are important to an engineering audience. However, those alone cannot help you build awareness, earn trust and differentiate you from the competition when there is parity in Value Proposition.
Most manufacturing marketers think in terms of creating white papers, case studies, blog posts etc. when it comes to content marketing. They are very effective for top of the funnel (ToFU) efforts, but passive reading of your content will not help you generate leads that turn into sales opportunities.
Think of 3D CAD models and 2D CAD drawings as content assets for moving leads closer to the RFQ stage much quicker than any other type of content resource. There are several benefits to offering 3D CAD models and 2D CAD drawings online. By far the strongest reason, at least in my opinion is that they help get manufacturers' or distributors' parts "designed in." Design wins lead to prototype and production orders. That's why I like to call them "sales enablers."
Engineers are increasingly under time pressure. Research shows that 44% of engineers are working on more projects now than they were two years ago and 55% of engineers are being required to do more with less. You can win their mindshare by providing them downloadable CAD files which are big time savers and they improve accuracy across designs.
In June 2018, we launched a survey among the engineers and designers (45,555 respondents) using the TraceParts CAD-content platform to determine their level of satisfaction and gain a clearer insight into their needs and expectations from suppliers of industrial parts.
Here are the key findings from our survey:
89% of the users of the TraceParts CAD platform preferred to work with suppliers who provide CAD models of their parts.
88% of users ultimately bought the part after downloading its CAD model.
78% of our users said that they had identified one or more parts suppliers on the platform.
83% of respondents spend less time finding the part than modeling it.
Download the complete Survey results: Interactions between Designers and Component Suppliers.

Helping manufacturers generate better quality leads
It is one thing to cite statistics, but as they say, "proof is in the pudding" or if you prefer the original proverb, "the proof of the pudding is in the eating." Read two of our recent case studies as proof of results that TraceParts has delivered to its customers.
Need help publishing your CAD Catalog?
If you've tried publishing your own CAD Catalog before but weren't successful, we can help. We have published several FREE resources to help you make an informed decision and create more relevant content for industrial buyers.
We have the resources and the expertise to fit your budget and fill your specific needs.

Categories