Syzax modules allow engineers to configure their automation solutions directly on TraceParts.com
---
Saint-Romain, France; May 27, 2021 – With a track record of more than 20 years in the automation market, OPµS SAS recently developed a linear motor axis system with the aim of addressing the growing need for superior performance and easy integration in automated environments. The range is being marketed under the Syzax brand and offers a broad array of ultra-configurable standardized modules.
Syzax has been designed as the most compact, modular and powerful axis system in the automation market. Automated equipment engineers and designers can harness the Syzax modules to easily create their own multi-axis systems to suit a wide range of applications requiring power and precision.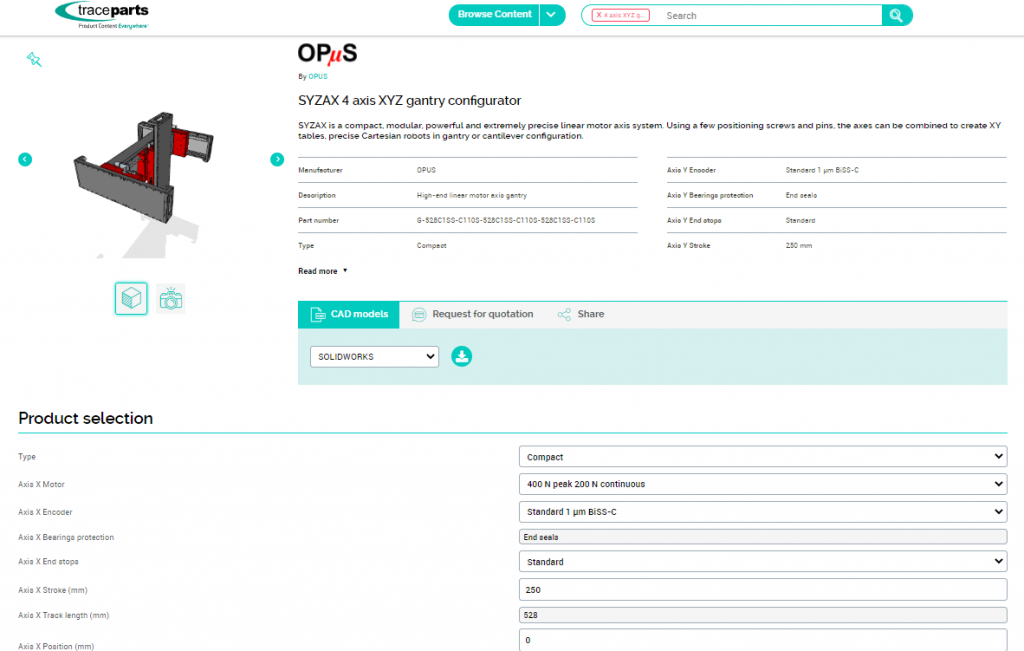 With the aim of giving its customers the facility to personally configure their automation solutions, OPµS SAS decided to create a catalog of CAD models with an associated configurator. That explains why it enlisted TraceParts' expertise to design 3D models for its range of highly configurable products.
Our choice focused on the TraceParts solution, because it offers our customers a fast service. It also means that our in-house teams have to deal with fewer daily requests for technical content, which has saved us real time and improved our competitive edge.

What we also like about TraceParts is that we can carry out email campaigns targeting a given audience, which lets us promote our products on a global scale,

explains Thomas Burry, Project Manager at OP

µ

S SAS.
About OP

µ

S SAS
Founded in 1998, OPµS SAS develops and manufactures high-precision assembly machines, as well as leading-edge optical systems and CNC modules for the automation market. Expert in instrumental optics and precision mechanics, OPµS SAS operates in the following markets: space and aeronautics, watchmaking, semiconductors, electronics, microtechnology, medical, energy, telecommunications.
About TraceParts
TraceParts is one of the world's leading CAD-content platforms for Engineering, Industrial Equipment and Machine Design, totaling 4.3 million registered members from 1.2 million companies actively sourcing product information and technical data from over 195 different countries.
As part of the Trace Group founded in 1990, TraceParts brings highly targeted marketing exposure to more than 800 customers of all sizes and from all industries, via powerful cloud-based API and SaaS applications such as CAD part libraries, product catalogs and configurators.
TraceParts' comprehensive Digital Marketing Services help part manufacturers and distributors, 3D printing & rapid-prototyping suppliers, CAD/CAM/CAE/ECAD software and computer hardware vendors promote their products and services and generate highly qualified sales leads.
Available free-of-charge to millions of Engineers & Designers worldwide, the TraceParts CAD-content platform provides access to over 1,100 supplier-certified product catalogs and billions of 2D drawings & 3D CAD models and product datasheets that perfectly match the digitalization needs of Design, Purchasing, Manufacturing and Maintenance processes & operations, in virtually any industrial sector.
Categories