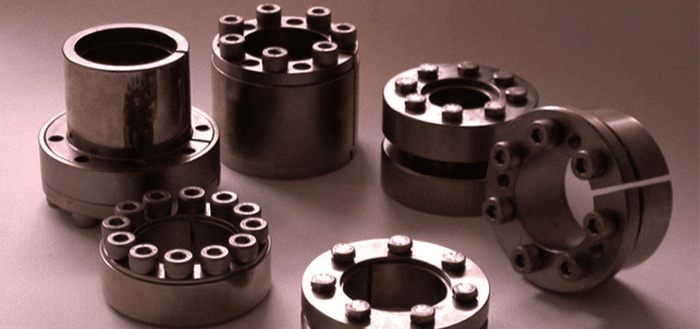 [INTERVIEW] MAV S.p.A. chooses TraceParts with a new level of global service in its sights
---
How do you raise the bar when you're already providing outstanding technical support?
MAV S.p.A, a company that specializes in designing and manufacturing units for connecting shafts and hubs, has opted for TraceParts to help it make the 3D designs of its locking devices available worldwide, 24/7 and in every available CAD format.
There was a presentation of the project, which provided the opportunity for an informal chat with Elisa Perazzoli, MAV's Sales Manager, to discuss in more detail the choices made by the company and its objectives.
In what sector do you operate, and what might be considered the main components you produce?
MAV's locking devices are used in a variety of sectors. The smallest devices, available in both normal and stainless steel, are fitted, for example, in packaging machinery. Our shrink discs offer a secure hollow shaft/solid shaft connection in reducers, while our large-dimension locking devices can also be used in the long conveyor belts installed in mines all over the world.
They are used in many sectors, with the key ones being:
Packaging
Bottling
Labeling
Conveyor belts
Machine tools
Marine engineering
Compressors
Transport systems
Heavy industry
Printing machines
Paper mill machines
Aerospace industry
Woodworking
Opening systems
Wind industry
Photovoltaic industry
When did you think about using TraceParts' online services? What made you do this?
We have been thinking for some years now about providing online access to our components' 3D designs, also prompted by requests for this from our main customers. We believe that the battle on the markets is also waged through service. MAV has always offered its customers the best possible technical support. Putting the 3D designs online offers further added value.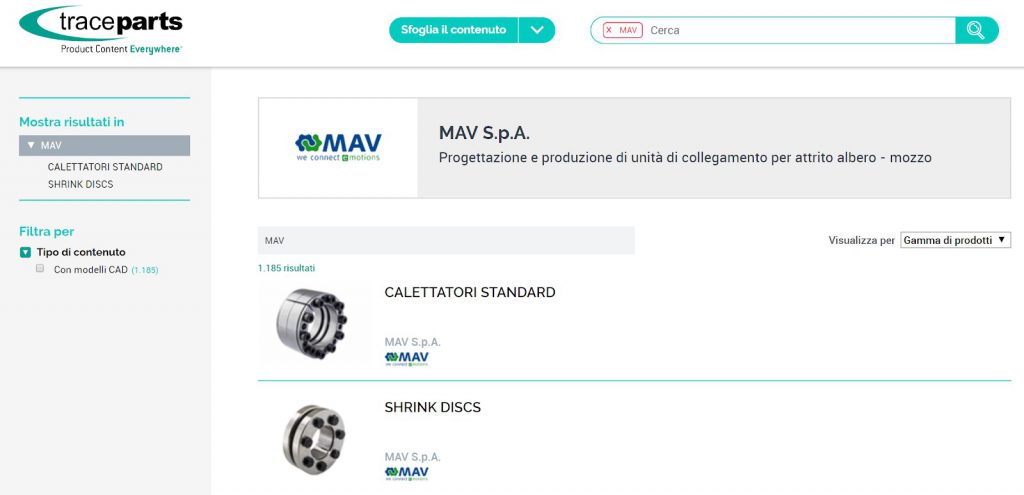 Based on your experience, what are the main restraints preventing companies from investing in putting their catalogs online?
In our case, we have always personally provided our customers with 3D designs, believing strongly in the positive aspects of a "personal" approach. But we're now definitely having to deal with a world that is becoming increasingly connected, in which processes need to be rapid and where customers may not have time to wait for us to respond to their request.
Enabling customers to manage their requirements independently (when possible) speeds up processes on an exponential scale.
Let's not forget either that MAV exports its products all over the world, which also means that time zones have an impact on response times: when our technical department is open, some of our customer may still be asleep, and vice versa.
What concerns did you have when you thought about putting your current catalog online?
I think that one of our main concerns was losing part of our expertise to the benefit of our competitors. There are certainly precautions we can take to avoid this happening.
What level of effort has been involved in this (in terms of time, resources, glitches, etc.)?
This task has involved no mean effort, especially as careful proofreading of the various pages requires attention and accuracy.
Do you think that having an online catalog can provide you with a tool to make you more competitive in your market?
Definitely. This is a service that adds value and makes our customers' work easier. At the same time, it facilitates contact with potential customers, generating new business opportunities.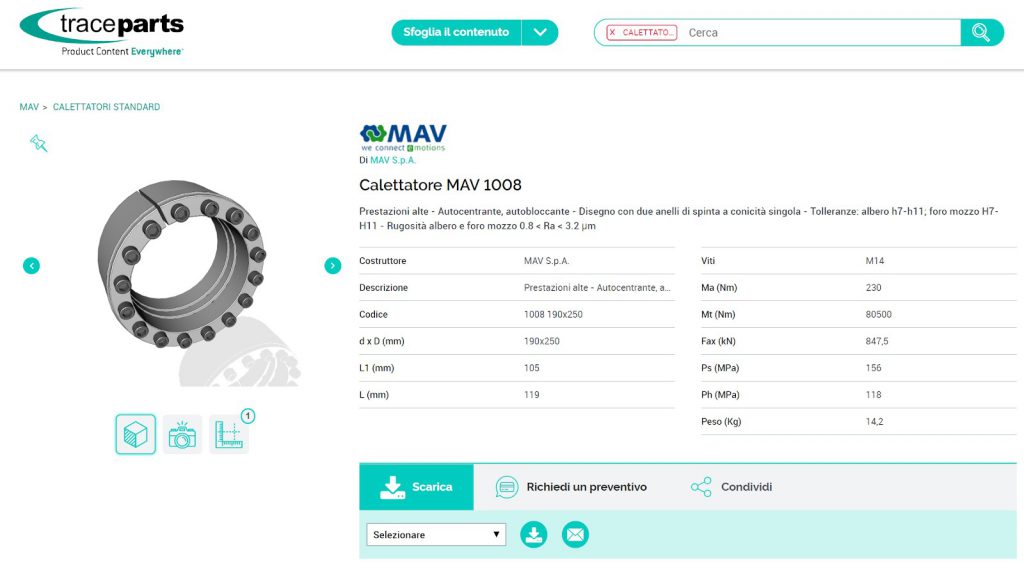 Can the compatibility tools for the various CAD formats available on the platform, the multilingual interface, and 24/7 accessibility to the catalog make this a tool to help you increase your sales?
In an ever-increasingly globalized and interconnected world, it is vital to be available all the time, providing a user-friendly service. We just never know where new opportunities are hiding and we mustn't miss out on these opportunities when they present themselves to us.
***
I'd like to thank Elisa for giving me her time. I always find it interesting to find out and share experiences about how decision-making processes aimed at innovation come about.
If you also think that 3D cataloging can help you generate valuable contacts, send me an email to gplodi@traceparts.it. I'll then show you, based on the figures, the potential offered by the TraceParts platform.
REFERENCES
MAV S.p.A. – https://www.mav.it/en/
MAV 3D catalog on TraceParts – here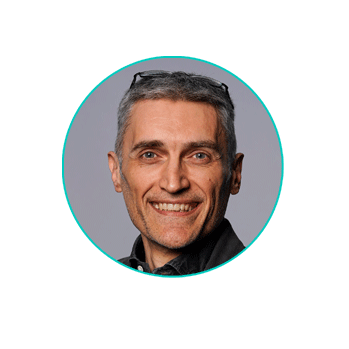 About the author
My name is Gian Paolo Lodi and I work as a consultant for TraceParts Srl.
It has been several years now that I have been communicating with companies and entrepreneurs in the mechatronics sector on a daily basis.
Therefore, I am familiar with the needs and problems that sometimes prompt them to take major risks in an effort to sharpen their competitive edge in the national and international market.
Categories