CAD models of needle roller bearings from JNS (Japan Nose Seiko) on the TraceParts platform to support the mechanical and electronics industries.
---
14-01-2021
Krunoslav Rašić
Saint-Romain, France; January 14, 2021 – Japan Nose Seiko, which is also known as JNS, is a world-leading manufacturer of needle roller bearings, cam followers and roller followers. The company is headquartered in Osaka, Japan. JNS was formally founded in 1964 and was the pioneer in stainless steel cam followers and roller followers. In 2011, JNS added machined stainless steel needle roller bearing into their product line, becoming the first bearing maker developing standardized stainless steel needle roller bearings. Its sales network currently spreads over more than 68 countries.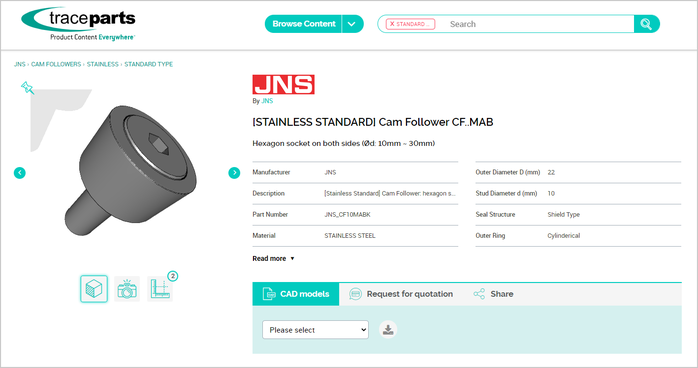 JNS specializes in needle roller bearings. This type of bearing offers superior load capacity to other bearings. They feature a lighter and thinner design, which improves their efficiency and reduces machine outages, especially with a grease- or oil-based pre-lubrication system.
Thanks to the anti-corrosion properties of stainless steel, our bearings are especially suited to industrial environments with stringent hygiene requirements, such as in the electronics, robotics and medical industries, for both semiconductors and 5G technologies. As such, JNS components are widely used in the manufacturing industries.

explains Mr. Uehira, Director of Research & Development Center at JNS
It has been two years since JNS published its 3D product catalog on traceparts.com and via a website hosted by TraceParts. The point that tipped the company's choice in favor of the TraceParts solution was the ability to give its customers and prospects easier access to the technical data for its products, and especially raise the visibility of its catalog among engineers and designers worldwide.
The TraceParts Smart-Publishing solution used to publish the catalog has proven to be extremely popular with JNS, since it can easily and quickly upload the CAD models for its products while enjoying the attractive pricing options.
The extended possibilities that we can harness by publishing our product catalog on the TraceParts platform will clearly enable us to reach out to a wider network of customers. It takes the digital experience one step further for engineers. It also represents a robust marketing solution for raising awareness of the JNS brand and achieving our objective of gaining recognition in a global manufacturing market.

adds Mr. Uehira, Director of Research & Development Center at JNS
TraceParts is delighted to have spent the last two years working with JNS and making its needle roller bearings available as 3D product data and thereby helping engineers move their design projects forward. It is an especially rewarding customer experience on the seamless and direct use of our customers' digital data through our solutions.

advises Claude Perrusset, Head of Sales Development at TraceParts
About JNS
JNS was founded in 1964 as a bearing manufacturer. The company's product range includes steel and stainless steel needle roller bearings, cam followers and roller followers.
JNS's top priority is to improve product quality and customer convenience. JNS achieves this aim by introducing cutting-edge technologies into its production system and promptly delivering high-quality products through its robust logistics system. All JNS products are made and delivered directly from Japan.
For more information, visit www.nose-seiko.co.jp/en/.
About TraceParts
TraceParts is one of the world's leading providers of 3D digital content for engineering. As part of the Trace Group founded in 1990, the company provides powerful web-based solutions, such as CAD part libraries, electronic catalogs and product configurators.
TraceParts offers digital marketing services to help part vendors, 3D printing suppliers, software and computer hardware vendors promote their products and services and generate high-quality B2B sales leads.
The
TraceParts
portal is available free-of-charge to millions of CAD users worldwide. It provides access to hundreds of supplier catalogs and more than 100 million CAD models and product data-sheets that perfectly meet the specific needs of design, purchasing, manufacturing and maintenance processes and operations.
Categories