"Premium banner": take advantage of a privileged space
---
Put your products clearly on the radar by displaying your banner directly on the traceparts.com homepage
TraceParts invites you to publish a Premium banner on its homepage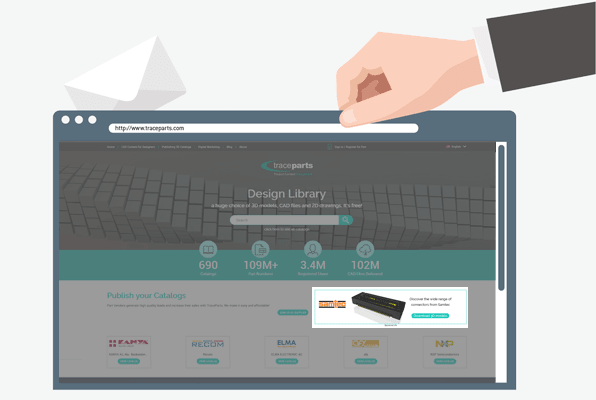 This strategic position ensures excellent visibility: the homepage is one of the pages that engineers and designers most frequently visit to access the platform.
The Premium banner is the only animated element on the page and immediately catches visitor's eyes with its imposing format and position just beneath the search bar.
Three banners are available per language and per month.
Banners are rotated at random but fairly, i.e. each banner will be displayed the same number of times.
This space can also be reserved exclusively on request.
Specifications for displaying Premium Banner:
Creation: we will create the banner for you, since we use a proprietary format (810 x 180 pixels)
CTA: maximum 6 words
Text: maximum 20 words
Performance Statistics:
Monthly print number: 370,000 (source: Adglare 2018)
Average click rate: 0.37%

Get started today! Contact your digital Marketing expert:

Laëtitia Rimbert
+33 2 32 73 54 65
info@traceparts.com