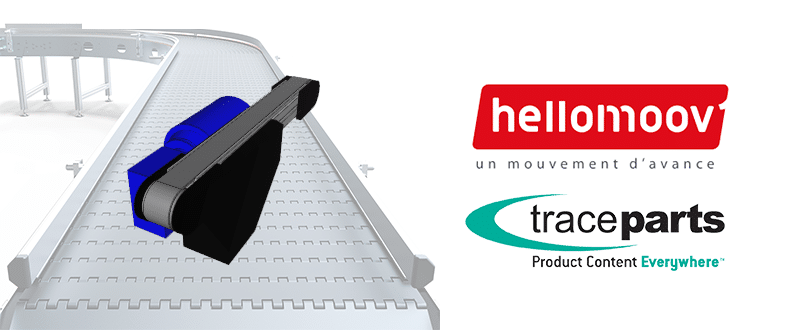 Hellomoov' publishes its modular range of mechanically assembled aluminum profile solutions on the TraceParts engineering platform.
---
Elcom, Faber and Transept joined forces to create hellomoov', the benchmark in the European conveyor systems market and the leading provider of modular aluminum profile solutions in France.
Saint-Romain, France – March 26, 2020 – hellomoov' used to be a distributor for manufacturer Item but now produces its own range of aluminum profiles in the four standards used by factories (EXcelcom in 40×40, BOfit and NOstress in 45×45, and FABfit in 44×44) and markets its products under the h'elcom brand. The products manufactured by the holding company are already available on the TraceParts platform.
As experts in enhancing and improving flows in industry 4.0, this conglomerate has its sights on forging its reputation as a "French champion and spreading its name across the global map".
Therefore, it is only natural that hellomoov' is actively pursuing its innovation strategy by uploading its h'elcom products (aluminum profiles and accessories) and Moovitique® products (belt conveyor, assembly line transfer and smart conveyor systems) to the TraceParts engineering platform. The Moovitique® concept spearheaded and developed by hellomoov' features an end-to-end range of transfer solutions engineered to improve the circulation of parts across assembly lines.
The element that prompted hellomoov' to choose the TraceParts solution was primarily the ability to fulfil the growing daily demand for downloads of CAD files for its aluminum profiles and accessories, as well as to stay true to its slogan of "smart made easy".
That is why giving easy access to all CAD files for customers and prospects of the hellomoov' brand was an obvious choice, as explained by Béatrice Bolling, Chief Marketing & Digital Officer at hellomoov':
TraceParts is THE benchmark for engineering consultancies looking to design modular industrial sub-assemblies, and our range is also THE benchmark in this particular field. TraceParts is totally agnostic and all CAD standards are available, which is also the heartbeat of hellomoov'. It seemed a natural decision to pool our talents and expertise!
About hellomoov'
Elcom, Faber and Transept have combined their expertise to create hellomoov'. Their solutions are ahead of their time and bring a host of benefits to manufacturers and systems integrators. The hellomoov' range features a unique depth of complementary products.
About TraceParts
TraceParts is one of the world's leading providers of 3D digital content for engineering. As part of the Trace Group founded in 1990, the company provides powerful web-based solutions, such as CAD part libraries, electronic catalogs and product configurators.
TraceParts offers digital marketing services to help part vendors, 3D printing suppliers, software and computer hardware vendors promote their products and services and generate high-quality B2B sales leads.
The
TraceParts
portal is available free-of-charge to millions of CAD users worldwide. It provides access to hundreds of supplier catalogs and more than 100 million CAD models and product data-sheets that perfectly meet the specific needs of design, purchasing, manufacturing and maintenance processes and operations.
Categories