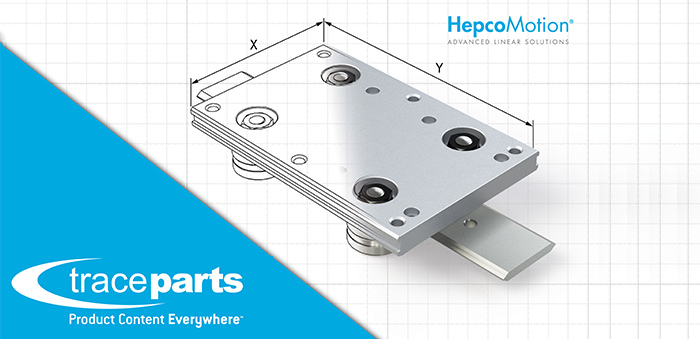 HepcoMotion chose TraceParts as a service provider to publish its product data in 3D
---
HepcoMotion is pleased to announce that a wide range of its industry leading products are now available on the TraceParts CAD content platform, one of the world's leading providers of 3D digital content for engineering.
Committed to improving customer usability and convenience, HepcoMotion chose TraceParts as it is one of the primary resources for engineers and design professionals from all over the world to download 3D CAD models for industrial parts.
With over 3.7 million registered users, many of HepcoMotion's existing customers will already be using TraceParts, making HepcoMotion's presence a welcomed addition.
As a global company, it was key for HepcoMotion to find a solution that would meet the needs of its customers worldwide. TraceParts is available in 24 languages, including core markets for HepcoMotion such as China, Korea and the US, ensuring that customers worldwide can quickly and easily access models. 3D CAD models are available from TraceParts in over 60 formats, thereby maximising compatibility with all commonly used CAD systems.
As with many industrial component suppliers, CAD downloads play a key role in providing sales leads.
The CAD download leads are very valuable to our sales force.  This is a clear signal that a customer is thinking about using our products and gives our experienced sales engineers the opportunity to assist project engineers and to provide advice on the application.

Peter Jones, Marketing Manager at HepcoMotion explains.
About TraceParts
TraceParts is one of the world's leading providers of 3D digital content for engineering. As part of the Trace Group founded in 1990, the company provides powerful web-based solutions, such as CAD part libraries, electronic catalogs and product configurators.
TraceParts offers digital marketing services to help part vendors, 3D printing suppliers, software and computer hardware vendors promote their products and services and generate high-quality B2B sales leads.
The
TraceParts
portal is available free-of-charge to millions of CAD users worldwide. It provides access to hundreds of supplier catalogs and more than 100 million CAD models and product data-sheets that perfectly meet the specific needs of design, purchasing, manufacturing and maintenance processes and operations.
Categories