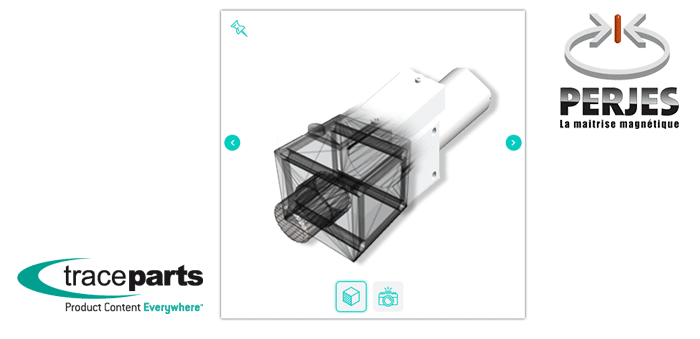 PERJES, a leading player in the electromagnetism market, publishes its product catalog on the TraceParts.com engineering platform
---
Saint-Romain, France – March 04, 2020 – PERJES, a manufacturer of innovative electromagnetic locking systems, has placed its trust in TraceParts to publish its range on the www.traceparts.com website.
For more than 30 years, PERJES has been offering an extensive array of magnetic holders, access control systems, anti-drift locking systems, magnetic security locks and electromagnets for countless industries, including automation, defense, aviation, transport, and building security.
Uploading part of our online catalog to the TraceParts platform will create a more modern user experience for our customers and prospects thanks to the 3D parts viewer.

Designers can easily find the product that they need, download the model in the required format and incorporate it directly into their design.

In addition, the fact that the 3D models for our parts can be reused both legally and freely in the neutral or native CAD format by our customers and prospects means that we can more easily address the demand for CAD files.

explains Adrien-Jules Duvernois, President of PERJES
Designers and engineers around the world can now preview and download over 22,000 PERJES CAD files via the TraceParts website and its partners in the TraceParts Publishing Network.
About PERJES
PERJES has been manufacturing innovative electromagnetic locking systems since 1988. PERJES offers an extensive range of magnetic holders, access control systems, anti-drift mechanisms, magnetic security locks and electromagnets made exclusively in France.
About TraceParts
TraceParts is one of the world's leading CAD-content platforms for Engineering, Industrial Equipment and Machine Design, totaling 4.2 million registered members from 1.2 million companies actively sourcing product information and technical data from over 195 different countries.
As part of the Trace Group founded in 1990, TraceParts brings highly targeted marketing exposure to more than 800 customers of all sizes and from all industries, via powerful cloud-based API and SaaS applications such as CAD part libraries, product catalogs and configurators.
TraceParts' comprehensive Digital Marketing Services help part manufacturers and distributors, 3D printing & rapid-prototyping suppliers, CAD/CAM/CAE/ECAD software and computer hardware vendors promote their products and services and generate highly qualified sales leads.
Available free-of-charge to millions of Engineers & Designers worldwide, the TraceParts CAD-content platform provides access to over 1,100 supplier-certified product catalogs and billions of 2D drawings & 3D CAD models and product datasheets that perfectly match the digitalization needs of Design, Purchasing, Manufacturing and Maintenance processes & operations, in virtually any industrial sector.
Categories