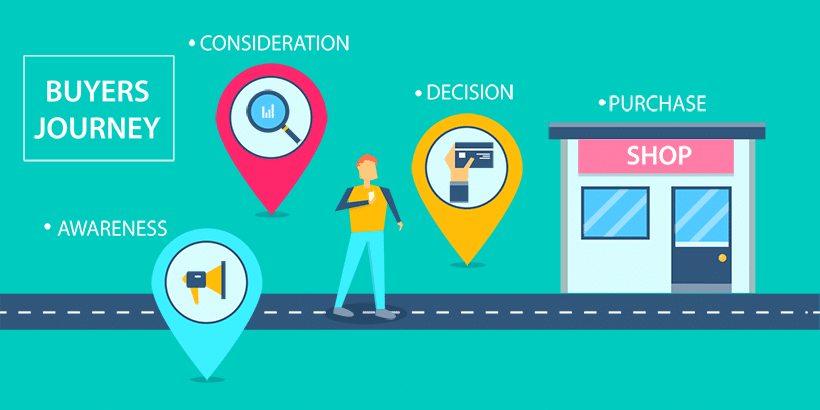 Purchasers' expectations have changed; you need to adapt!
---
27-11-2018
Priscillia Granval
In an increasingly connected world, the way people look for and consume information has changed considerably.
Today, we all search on Google to get an answer to our questions.
In B2B, it is exactly the same! Professionals use the internet to search for solutions when they have issues and questions.
It is essential to take into account how purchasers go about making decisions and to be in the right place at the right time.
Adapt your communication to become a source of useful information
Studies show that 90% of purchasing decisions are now taken before any contact with a sales person.
B2B buyers prefer to obtain information using a search engine, think about the situation alone and then contact a sales person when their decision to purchase is already taken.
First of all, buyers realize they have a need. So, they seek to define the need, with certain key words.
Once the need has been defined, they search for information dealing with the issue and look for solutions.
Throughout this information-search process, you therefore need to provide relevant information with high added value responding exactly to the needs of your prospects. This will position you as an expert on the subject. Then, when the prospects are ready to take their decision, you will be included in the short list of solutions.
You must be present at each step in this process to demonstrate to your potential buyers that you have THE solution they are looking for. Only when they are ready to make a final decision can you launch your sales process.
It is a new approach that you need to accept and adopt. You no longer simply sell, you must guide and educate your prospects.
If you are able to highlight your expertise, you will place yourself in front of your competitors!
Facilitate the decision-making process for buyers
All your communication must be designed to facilitate the buyers' decision-making process.
Buyers must be able to find all the information they need on your website and through your communication.
You must guide them in their thought process. Indeed, at the start of their information search, your prospects realize they have a need but have not yet precisely defined the requirements.
You must therefore assist and support them from the outset in order to facilitate their decision-making. This support and guidance should include creating articles and messages dealing with the issues that they face. This guidance offered should be subtle and not intrusive. Keep in mind that buyers like to think about things alone and do not want to speak to a sales person until they are ready to take a decision.
Do you not think it would be wise to be present from the beginning of the information-search so that your prospects will think of you when they come to the decision-making phase?
Provide a customized experience
As you have already seen, it is essential to listen to your buyers and pay attention to their behavior in order to adapt your communication.
Sending mass communication is a thing of the past!
Your goal should be to offer your buyers the most customized experience possible.
By studying their needs, habits, and behavior on your website, you will be able to send personalized messages according to what stage they are at in the purchasing process. This is when the old adage "send the right message to the right person at the right time" strikes true!
Your strategy should allow you to support and guide your prospects, thanks to your articles that provide added value and targeted emails with calls to action linked pages with contact forms (landing page) which will enable you to retrieve relevant information and get to know the contacts better.
All this information will be valuable for ensuring your strategy runs smoothly. It will also be valuable for the sales team when the prospect is ready to make a decision. The sales person will have valuable information about which person to contact, and that person will already know your company.
The behavior of your buyers has changed. They have moved with the times. Your strategy should follow this new process. This requires a real investment because you must first study, analyze, understand and know your prospects in order to produce quality customized content and emails; but you will reap the benefits.
If you want advise about building your lead-generation strategy, please do not hesitate to contact one of our experts for a digital marketing audit.
Categories