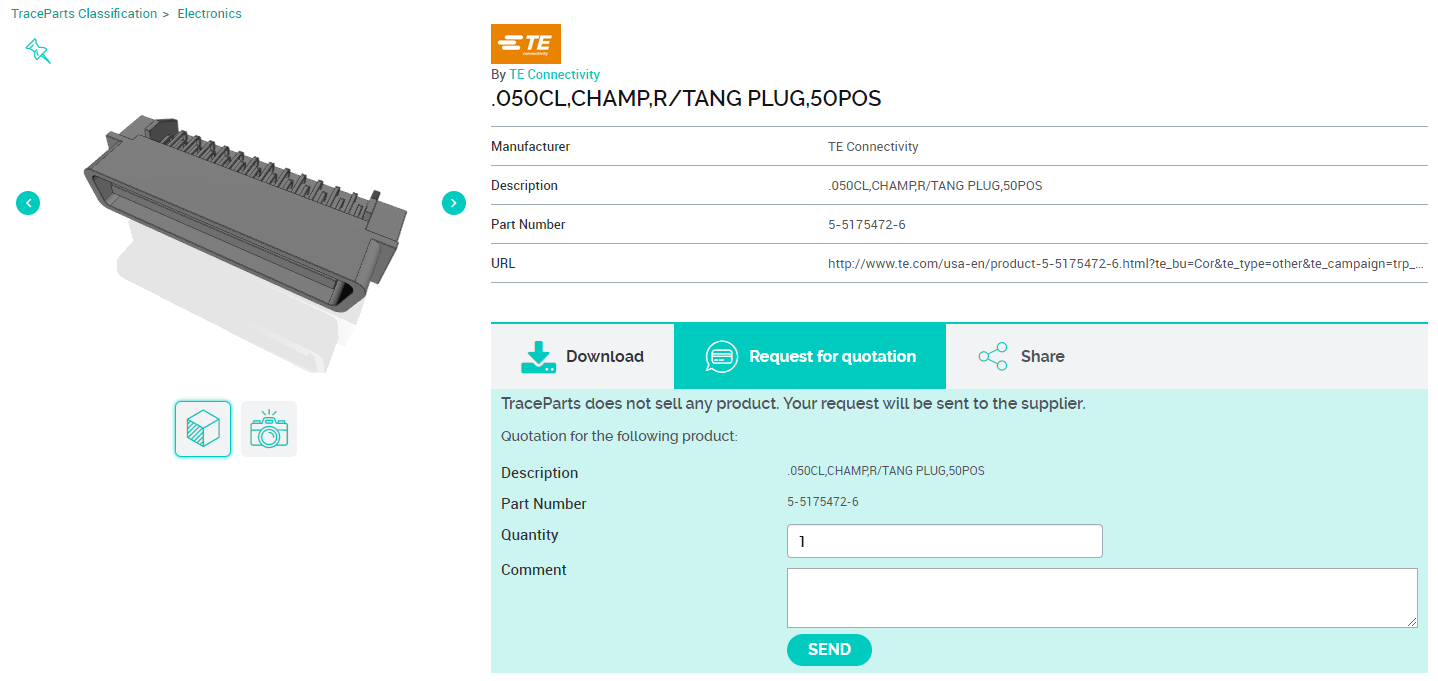 The quotation request form available on the TraceParts platform is designed to simplify interaction between designers and industrial parts suppliers
---
Saint-Romain, France – May 27, 2020 – The TraceParts engineering platform offers a tool that can quickly and easily be implemented to simplify interaction between professional designers and industrial parts suppliers.
When the quotation request button is enabled on a catalog, it is present on each product datasheet and can be seen by all the people visiting the website. However, to request a quotation, visitors must register before they can access the form containing the product name, part number, and required quantity. They can also add comments to accompany their request.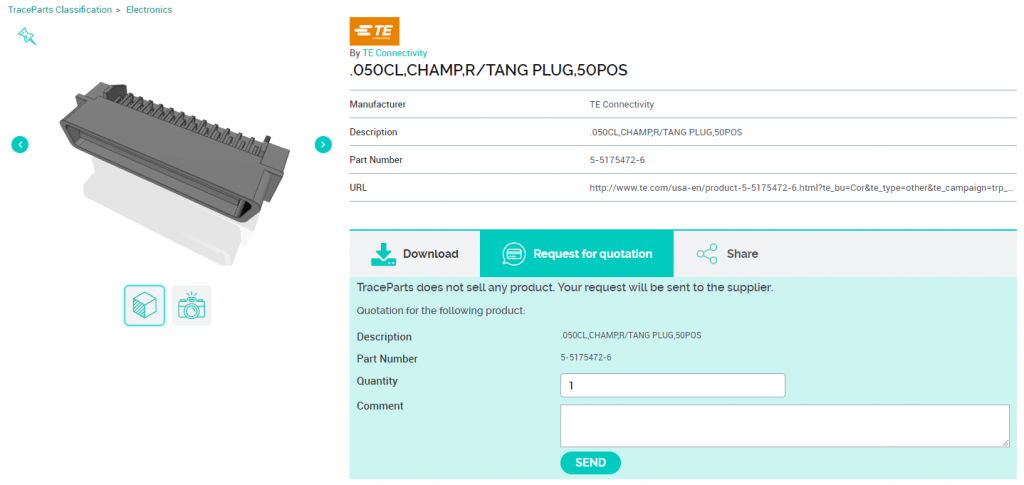 Once the form has been sent, the price request is completely separated from the TraceParts platform. It is emailed to the parts supplier, either to a single email address or different email addresses depending on the country specified in the user's profile.
The parts suppliers who have added this option have seen a significant increase in the number of price inquiries for their products.
It is much easier for design professionals to contact the parts supplier directly.
This option is an advantage for designers and engineers, since they can obtain the price as soon as they have found the CAD model for the part that they want to incorporate into their design project.
Quote requests can be tracked through the automatic report feature programmed in the TraceParts Analytics reporting system. Quote request data can also be viewed at any time in the TraceParts Analytics dashboard.
About TraceParts
TraceParts is one of the world's leading CAD-content platforms for Engineering, Industrial Equipment and Machine Design, totaling 4.3 million registered members from 1.2 million companies actively sourcing product information and technical data from over 195 different countries.
As part of the Trace Group founded in 1990, TraceParts brings highly targeted marketing exposure to more than 800 customers of all sizes and from all industries, via powerful cloud-based API and SaaS applications such as CAD part libraries, product catalogs and configurators.
TraceParts' comprehensive Digital Marketing Services help part manufacturers and distributors, 3D printing & rapid-prototyping suppliers, CAD/CAM/CAE/ECAD software and computer hardware vendors promote their products and services and generate highly qualified sales leads.
Available free-of-charge to millions of Engineers & Designers worldwide, the TraceParts CAD-content platform provides access to over 1,100 supplier-certified product catalogs and billions of 2D drawings & 3D CAD models and product datasheets that perfectly match the digitalization needs of Design, Purchasing, Manufacturing and Maintenance processes & operations, in virtually any industrial sector.
Categories