Thern, Inc. implements Helioz zipCPQ for its Portable Davit Crane Configure, Price, Quote Solution
---
08-06-2021
Krunoslav Rašić
CINCINNATI, OHIO USA (June 08, 2021) – Thern Inc. and Helioz Technologies have implemented the Helioz zipCPQ™ configure, price, quote solution on the THERN® website to streamline the digital customer experience.
Thern is a global winch and crane manufacturer based in Minnesota with more than seventy years in business providing top-quality pulling, lifting, and positioning equipment. Helioz Technologies, creator of zipCPQ, develops and implements product configuration solutions for manufacturers of mechanical and architectural products.
Thern identified Helioz zipCPQ as a world-class 3D configure, price and quote solution to offer detailed product configuration, real-time pricing, and professional quotations for their product lines, starting with the Thern COMMANDER® Series of portable davit cranes.
The COMMANDER 500, 1000 and 2000 models, which offer capacities ranging from 650 to 2,000 pounds, can now be interactively configured and priced, including winches, base and wire rope options. Once configured, a detailed 3D view is displayed for verification and is available for download in 60+ CAD formats, powered by TraceParts. The fully configured product is then added to the customer's project, along with other Thern products, which are then downloaded as a detailed product quotation.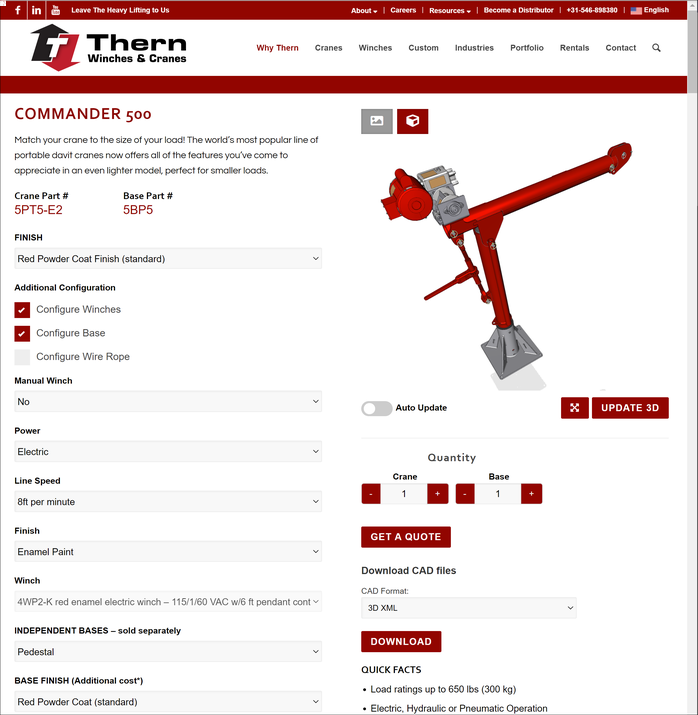 John P. Lund, Vice President of Sales & Marketing at Thern, stated:
Thern had a medium-term objective of digitizing the sales process and improving the customer experience on our website. The Helioz and Thern teams found each other in 2020 and collaborated on what was possible with zipCPQ.

When we learned that zipCPQ is a price/performer, offering all the capabilities that Thern required with a reasonable investment, we concluded that we could accelerate our timeline and implement our product configuration, pricing and quoting solution in early 2021.

Working with the Helioz team is fun and easy, with weekly meetings to keep everyone up to date on every step of the process.
It is exciting to work with industry leading companies like Thern! We immediately knew there was a great opportunity to improve Thern's digital customer experience.

Having Thern actively participate in the design process has resulted in a fantastic result for Thern and its customers. It is an absolute delight working with the Thern team and to be a part of their success.

said Rob Zesch, CEO & Founder of Helioz Technologies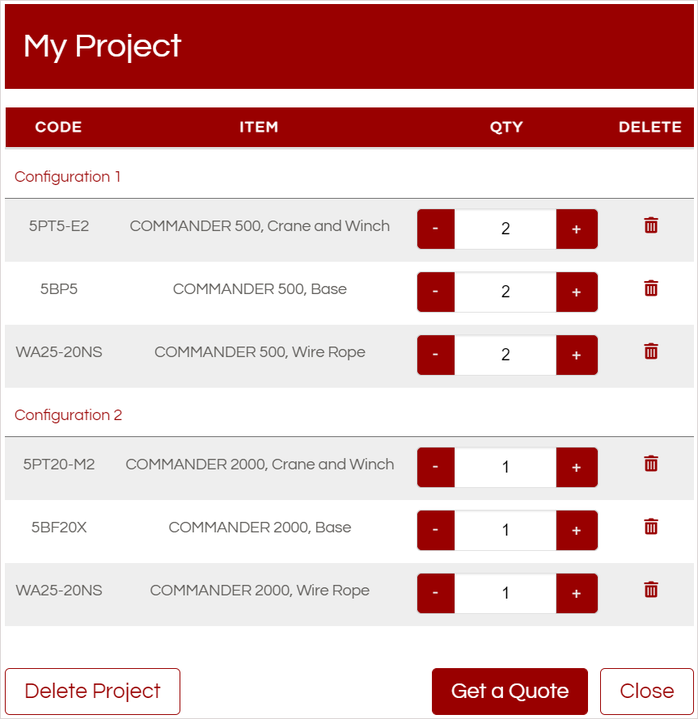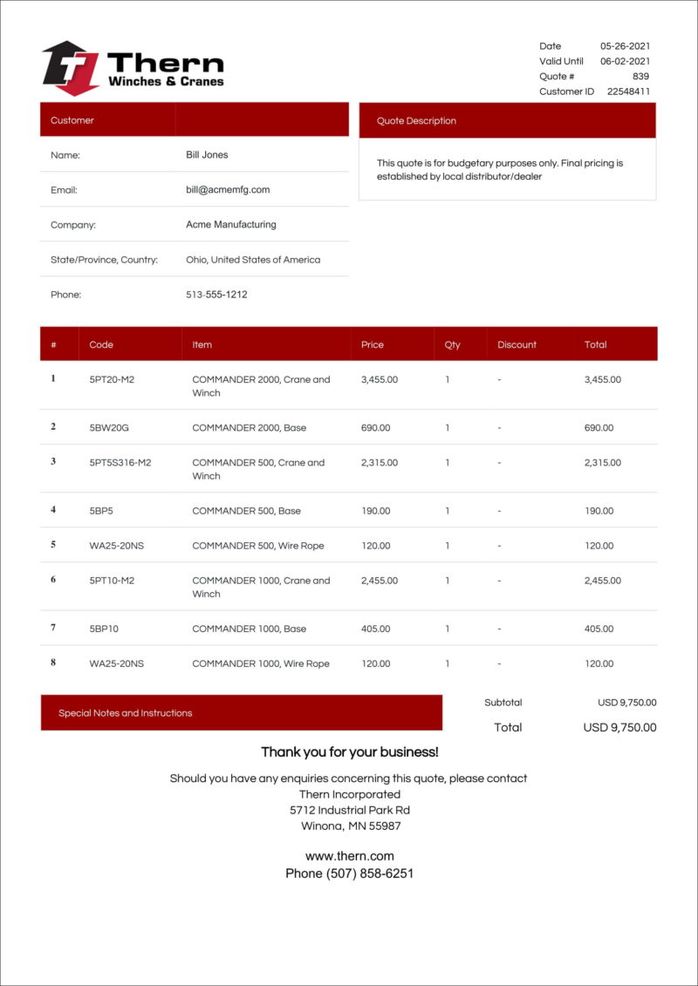 About Thern Inc.
Thern Incorporated was founded by the mechanically inclined Royal G. Thern and his wife, Lucille, during the post-World War II boom in Winona, Minnesota. They started with a handful of primary winches and other miscellaneous tools.
Today, Thern is an industry-leading crane and winch manufacturer with 70+ years of experience in manufacturing heavy-duty lifting, positioning, and pulling equipment.
Thern has an experienced engineering staff that can design, consult and make modifications as necessary to provide the best possible product for their customer's applications.
Thern has built a solid reputation for manufacturing the most dependable, robust, and durable solutions for moving loads of all sizes. Their extensive selection of off-the-shelf models and the ability to design custom solutions is why customers in markets worldwide choose Thern winches and cranes.
About Helioz Technologies
Helioz Technologies is a cloud-based application developer offering products and services for product configuration solutions, featuring zipCPQ (www.zipcpq.com), Pallet Insights, a cloud-based ERP solution for the pallet recycling industry as well as services for 3D catalog development.
zipCPQ is a cloud based configure, price quote application developed by Helioz Technologies. The Helioz team has many years of experience in developing and implementing product configuration solutions. As our experience has evolved, our portfolio of applications to streamline the development and maintenance of configurators and related pricing and quoting applications has become zipCPQ™.
zipCPQ is a great fit for companies with configurable products or products for which 3D product data adds value to the customer journey. Helioz clients achieve the best digital customer experience and improve their sales by making it easier for their customers to buy from them.
We look forward to the opportunity to bring zipCPQ to you and your company!
Learn more by visiting www.zipcpq.com and www.helioztechnologies.com.
About TraceParts
TraceParts is one of the world's leading CAD-content platforms for Engineering, Industrial Equipment and Machine Design, totaling 4.3 million registered members from 1.2 million companies actively sourcing product information and technical data from over 195 different countries.
As part of the Trace Group founded in 1990, TraceParts brings highly targeted marketing exposure to more than 800 customers of all sizes and from all industries, via powerful cloud-based API and SaaS applications such as CAD part libraries, product catalogs and configurators.
TraceParts' comprehensive Digital Marketing Services help part manufacturers and distributors, 3D printing & rapid-prototyping suppliers, CAD/CAM/CAE/ECAD software and computer hardware vendors promote their products and services and generate highly qualified sales leads.
Available free-of-charge to millions of Engineers & Designers worldwide, the TraceParts CAD-content platform provides access to over 1,100 supplier-certified product catalogs and billions of 2D drawings & 3D CAD models and product datasheets that perfectly match the digitalization needs of Design, Purchasing, Manufacturing and Maintenance processes & operations, in virtually any industrial sector.
Categories