Rules of the Christmas tree design contest 2009
---
Design a Christmas tree with components available in the TraceParts CAD library and win great prizes.
Another successful year for TraceParts draws to a close.
This success would not have been possible without the thousands of engineers, designers, technicians, purchasers from all industries that are using our CAD library quite intensively.
The whole team of TraceParts would like to say thank you for that and invite to take part in our Christmas tree design contest 2009 and win great prizes.
Your challenge:
Design a Christmas tree with the help of millions of available CAD models that are provided for free by the tracepartsonline.net library.
Prizes:
> 1st prize: Navigation-System (DANEW GS-130)
> 2nd prize: iPod® Shuffle 2nd generation
> 3rd prize: Swiss army knife with 256 MB USB flash storage
Christmas tree specifications:
> the Christmas tree should be designed in 3D, using your favourite 3D CAD software
> the components used must be available in the tracepartsonline.net library
Deadline:
Please send a rendered image of your Christmas tree to info@traceparts.com before December 18th.
The file size of the image should not exceed 500 Kb if possible.
The most creative Christmas trees will then be published on the home page of our web site.
Have fun designing your Christmas tree!
Your TraceParts Team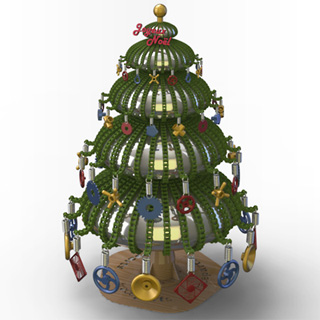 The 2008 winning Xmas tree.
We are sure you can do it better!