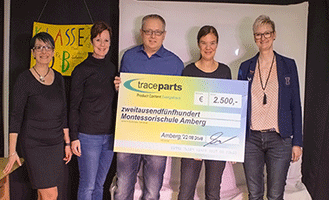 TraceParts sponsors a modular school stage
---
The long-cherished dream of having their own stage in the school hall comes true for the Montessori School in Amberg, southern Germany.
Amberg, 25.06.2018 – The long-cherished dream of having their own stage in the school hall so that the budding actors of the Montessori School in Amberg could put on even better shows has now come true. The clincher for purchasing it was the four-figure donation given by TraceParts GmbH.
School principal Conny Wrobel and Christine Wocheslander, chairwoman of the fundraising association, said that the demountable stage was manufactured by the firm Kolping-Bildungswerk. It can be dismantled into 16 separate components which can then, for instance, be used as seating furniture in the hall. This means that it can also be just as useful when there are no performances going on. When required, the stage can be quickly reassembled as there is no need to transport it from some faraway storage place to the hall to assemble it.
"What greatly impressed us straightaway was the brilliantly conceived technical implementation, which obviously made it for us, an IT company operating in a design environment, worthy of a donation. Instead of dismantling the stage and storing it away in a basement, it is virtually always available immediately and can be put together with just a few maneuvers. It is technically well conceived and practical to assemble. We are delighted to have made a contribution and hope the Montessori School puts on many more shows, starring enthusiastic students and watched by impressed parents," says Christian Baumgärtner, Managing Director of TraceParts GmbH.
The stage was formally handed over during an artistic evening attended by around 300 people. 100 students enchanted the audience by performing musical, dance and theatrical numbers, showcasing the full range of their abilities. "We have so many children and young people at our school who enjoy showing off their talents," remarked principal Conny Wrobel with delight. With the new stage, they have finally been given a worthy place for them to put on their performances.
About TraceParts
TraceParts is one of the world's leading providers of 3D digital content for engineering. As part of the Trace Group founded in 1989, the company provides powerful web-based solutions, such as CAD part libraries, electronic catalogs and product configurators.
TraceParts offers digital marketing services to help part vendors, 3D printing suppliers, software and computer hardware vendors promote their products and services and generate high-quality B2B sales leads.
The TraceParts portal is available free-of-charge to millions of CAD users worldwide. It provides access to hundreds of supplier catalogs and more than 100 Million CAD models and product datasheets that perfectly match the specific needs of Design, Purchasing, Manufacturing and Maintenance processes & operations.
Categories