3 steps to putting your catalog of 3D products online with TraceParts.
---
So, you've decided you want to maximize the sales of your new range of products, or even all the products available in your catalog.
To do this, you know that a key step will involve publishing your components in 3D.
The only problem is that you are not sure how to get started.
To help you out, here are the three key steps you will need to follow to get your components online.
Step 1 – A study of your products and the 3D modeling of your products by TraceParts
Whether you already have 3D CAD models and 2D views, technical data, or specific native models or not, you have several options available to you, and these may vary depending on the selection mode you want for your products.
Whether you have existing CAD 3D models or not
If you already have 3D CAD models, putting your catalog online will be much faster, as you will not need to model your products again.
A TraceParts technical team will handle the "construction" of your catalog in order to make it available on www.traceparts.com which has its own classification system.
What you will need to provide to the TraceParts technical team.
The technical data of the products you wish to publish (Excel spreadsheet extracted from your database).
The 3D models of your products (STEP format recommended).
Then, you can also provide other elements which will enhance your catalog, for example: photos of your products, URLs containing links to PDF files of your catalog, drawings with dimensions, etc.
A test procedure will then be carried out by our technical team in order to verify the validity of the models in the context of multi-format generation. 
The catalog will then be published on the TraceParts CAD-content platform.
If you do not have CAD models of your products, our team of modeling experts will produce the 3D models of your products for you.
If necessary, the models can be parametric.
What you need to provide to the TraceParts technical team.
All the plans required for the geometric reproduction of each product.
The dimension tables of your products.
Once the 3D models have been created, our technical team will begin making the catalog then test it in the context of multi-format generation.
The catalog will then be published on the TraceParts CAD-content platform.
A single or multiple-option selection mode (also known as a product configurator)
A simple selection mode is when the product selection is made using a simple selection table presenting X columns representing the different characteristics for the criteria displayed and Y lines for the different product references proposed.
If the selection of your products requires several tables or lists of criteria to make it possible to select a reference, you will need a configurator.
Depending on the technical data chosen by the user of the product, the configuration table can be adapted to enable the selection of a precise product reference.
Example of a catalog with configurator
Step 2 – Choosing a solution (or several) to put your 3D products online.
1. Putting your catalog on-line at www.traceparts.com
The TraceParts CAD-content platform has been online for over 17 years and has delivered over 111 million CAD files to date.
By 2017, the site had 4.3 million visitors and 77 million page views.
Currently, there are 3.5 million registered users, mainly designers and engineers, and this user base continues to grow.
The TraceParts platform allows design professionals to access hundreds of millions of standard certified products compatible with their CAD software 24/7.
This solution allows manufacturers of industrial components to:
Increase their visibility online.
Benefit from expert technical support.
Get quote requests online via a form or via a URL that links to their own contact form.
Compete with manufacturers who have similar product categories and who are already on the platform.
Communicate the precise references of their products, which will be then integrated into the users' purchasing system.
To make their products accessible in over 60 different CAD formats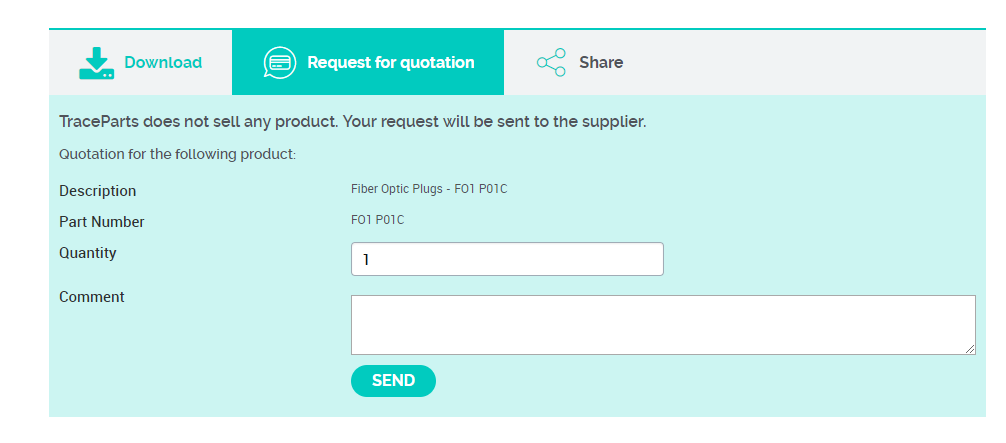 2. Integration of your products in 3D using technology provided by TraceParts
Integration of your products in 3D on a dedicated website.
This solution consists of creating a "mini website" hosted by TraceParts.
This website is accessible via a link or section on the manufacturer's website, in order to give visitors access to this content.
All the manufacturer's CAD content is therefore accessible via a simple interface (customized with the company logo) and benefiting from the same technical characteristics as the online library.
Integration of TraceParts' technology in your website using an iframe
This solution is slightly more technical and may require the help of a web developer, since it involves integrating the content of the TraceParts platform directly into your website using an HTML tag called an "iframe".
For example, certain features on the TraceParts CAD-content platform, such as the 3D viewer, will be immediately visible from your own website.
This way, users can download your CAD files without needing to leave your site.
Create your own interface using the web services provided by TraceParts
This solution makes it possible to totally customize your web interface.
These web services allow CAD data to be displayed using the manufacturer's graphic charter, so as to keep the company's visual identity.
With this solution, you are free to choose the type of content managed by TraceParts that you wish to integrate in your website.
TraceParts will provide you with all the necessary documentation so that your web team can integrate various web services and thereby create your own interface.
3. Making your catalog of 3D products available via a mobile application.
Mobile devices and applications are more practical and easy to use and make it easy to display Word or PDF documents.
They are also more user-friendly compared to a workstation and can also be a great way to showcase your products at trade shows or at business meetings.
Notably, the number of users who download to mobile media is constantly increasing.
A Recent survey of TraceParts platform users showed that:
37% of design professionals regularly use a smartphone or tablet to search for suppliers.
Step 3- Quotation and Action Plan
Once you have determined the solution that best suits your needs, one of our 3D marketing experts will send you a detailed quote.
When you are ready to start, an action plan will be delivered to you, so that you can follow the progress of your online catalog.
Publishing a catalog online is not as complicated as it seems when following these three simple steps!
All you need is the right contacts to provide the right advice according to your needs.
If you need any further advice, our experts are on hand to help you.
Make an appointment for a personalized demo now!
Categories