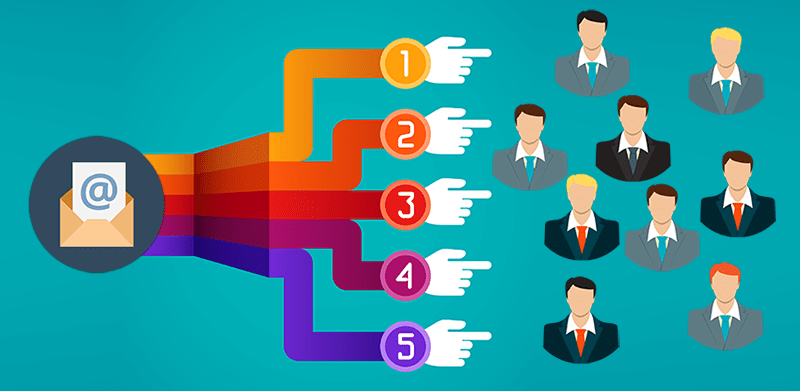 5 Ways Email Marketing Can Generate Leads For Your Business
---
07-01-2020
Priscillia Granval
When it comes to a business, people need to find ways to make money through leads. Leads become potential customers, making them a valuable resource for any business.
Many different email marketing techniques can create more leads, such as finding the right time to send email campaigns to people or tracking the effectiveness of subject lines.
By finding leads for your business, you increase the potential number of customers along with an increase in profit. While email campaigns work wonders at generating leads, how do people properly use that information to generate more leads?
This article will share with you five different ways that email marketing will bring you more leads.
1. Collect Subscribers
You can go through your email campaigns to see who is interested in your content. If a person is subscribed to your email campaign, this means that they're interested in your content and your business. This makes those subscribers prime people to become specific leads for you since they already have shown interest in your content.
Consider those that not only receive your emails but who also click on your emails or access your website through a hyperlink. These people not only have an interest, but they actively participate. You can send these people different types of emails to either share different products with them or to collect more data through surveys.
When you identify different subscribers to send emails to, you can increase your leads by having those subscribers turn into potential customers. You can also do the same through other sources such as social media. Be mindful of these different people and how you can turn subscribers or followers into leads.
2. Gate Your Content
People love access to exclusive content or deals. This is possible to do with your email campaigns to gain more leads. You can make a post on your website or on your social media accounts informing people about exclusive content.
You can either provide specific access to information, a chance to win a product, or even sell exclusive digital content.
When you mention this exclusive content that people can access, people will subscribe to receive your emails.
You do have the option of making people pay for different offers, but then that will lower the number of people that will subscribe.
Some businesses may worry about providing products for free, but the added traffic and increased sales will give you an overall profit.
When you gate your content by requiring people to give you contact information to get access to special content or products, you generate more leads.
This allows you to reach out to more people and to continue to expand your business. Keep in mind that you need to find the right deals to attract the correct audience that will be interested in your business.

3. Set Up an Email Series
Many businesses use an email series to draw in more people. Many people will be interested in a specific aspect of your business, so if you can provide consistent information on that topic, more people will join. This is where an email series comes in. You can provide your subscribers with the information they desire on a regular basis while you gain more leads.
Consider what your business offers and the most popular aspects of it. By identifying what draws people to your business, you can provide an email series that will draw in more people. For example, you could identify the product with the most sales in your business and provide interesting information or upcoming deals for that product.
For an email series to work, you must find something that will attract more attention. After all, subscribers will receive these emails on a regular basis, so it needs to interest them. When you find the right email series to make, you can draw in new subscribers, increasing your number of leads.
4. Segment Based on Subscriber Behavior
While many companies will send out emails to all subscribers, you can segment your subscribers into groups to target those interested in specific subjects. To do so, you will need to access data about your email campaigns to see where different interests lie among your subscribers. You can organize this information based on various factors such as subject lines or the email's length.
When segmenting subscribers based on their interactions with your email campaigns, make sure to present the emails in a way that will make subscribers want to click it. You can focus on subject lines, brevity, images, including social media, and having a call-to-action. This will help to further improve and create more success for these segmented emails.
5. Make Your Emails Shareable
Forwarding provides a wonderful tool for you to gain more leads for your business. By having a subscriber forward your email campaign to a colleague, this offers you exposure while providing you with more potential leads through a lead magnet. If their colleagues show interest in the email campaign, then they will look into your business, sign up for your emails, and make purchases.
Your email campaigns can have a strong impact when a customer forwards it to a colleague. After all, the colleague will trust an email from someone they know more than an email from a company. You can encourage your subscribers to share your email campaigns and your business with other people. This will get you more leads as more people find out about your business.
Make is as easy as possible for people to share your emails with others. This will spread the word and let you reach more leads. You can include a call-to-action in your email campaigns for your subscribers to share the email or post about it on social media. The simple act of spreading through your subscribers will have a strong impact on your business.
6. Final Remarks
Generating leads stands out as an effective way to draw in more customers to your business. After all, a business naturally wants to expand to see further growth and profit. Keep those previous five ways in mind to see leads continue to generate within your business.
Various tools and techniques can help your company to generate more leads. Having consistent customers will provide success, but more customers will give you more success. Many companies seek more leads for this reason. When you keep this in mind as you make adjustments to your email campaign, you can increase your number of leads.
If this subject interested you, you can read the article about the Six best practices when creating an email marketing campaign in the industrial sector
Categories