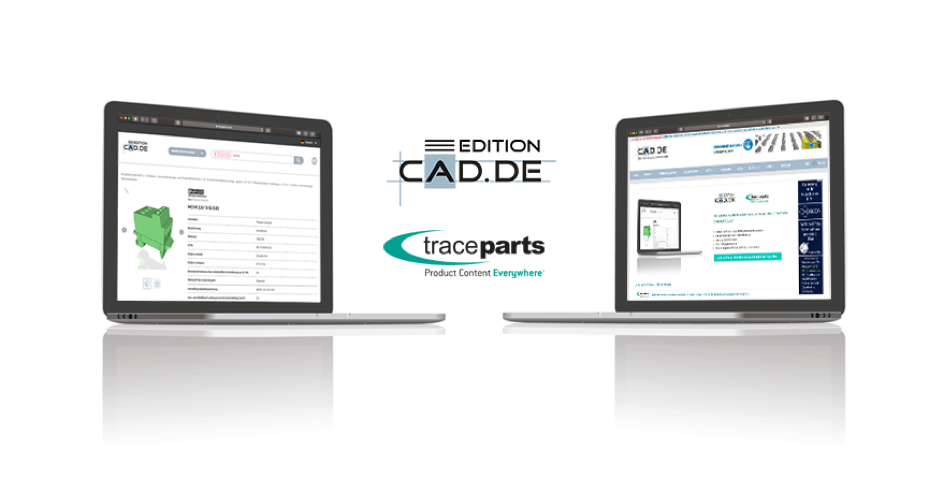 CAD.de and TraceParts present revamped component library
---
CAD.de, currently the largest CAD-CAM-CAE community in the German-speaking world with nearly 180,000 active members, and TraceParts, one of the world's leading providers of digital 3D content for mechanical engineering, are presenting a revamped version of the TraceParts Edition CAD.de website.
TraceParts Edition CAD.de represents a variation on the original TraceParts CAD-content platform specifically adapted to the corporate design of the designer community. CAD.de members can access directly, free of charge, the technical content of the platform via the user interface of CAD.de.
There are currently more than 111 million searchable part numbers, supplied from more than 820 manufacturer-certified component catalogs, available for download in more than 60 different output formats.
The TraceParts Edition CAD.de website has been giving our members since 2008 the opportunity to access directly one of the most comprehensive part libraries in the world. By upgrading to this extensively revamped version, we are giving users even easier and greatly optimized access to the millions of available product data,

says Albert Ranig, founder and managing director of CAD.de.
Media partnerships are of paramount importance to TraceParts. On the one hand, in order to significantly increase product visibility for the geometric product data of our B2B customers from industry and to be able to supply them with leads and, on the other hand, to make the daily work of designers and developers more efficient. TraceParts Edition CAD.de was one of the cornerstones of the TraceParts publishing network that currently has 27 million users, and we are very proud of this long-standing partnership! The long-standing trust in TraceParts shown by the highly qualified experts and users of the CAD.de community is one of the clearest indications of the high quality of our technology and the CAD product data,

emphasizes Christian Baumgärtner, Managing Director of TraceParts GmbH.
About CAD.de
Since October 1999, CAD.de has emerged as the largest CAD-CAM-CAE community in the German-speaking world, currently with almost 180,000 active members and more than 2.5 million page views per month. It focuses on the more than 600 CAx product forums with more than 3.7 million posts (as of January 2020).
CAD.de comprehensively covers the application areas of EC, CAD, CAE, CAM/NC/CNC, CIM/Digital Factory, EDM/PDM/PLM, FEM, hardware, visualization, and knowledge transfer through product and interest forums. More than 220 of these forums are run by high-profile moderators on a voluntary basis.
Categories