Paletti USA publishes its product catalog on the TraceParts.com engineering platform
---
04-08-2020
Krunoslav Rašić
CINCINNATI, OHIO and MONTGOMERYVILLE, PENNSYLVANIA USA (August 4th, 2020) – Paletti USA, an industry expert in the production and assembly of T-slotted aluminum extrusion systems, has chosen TraceParts to publish its product lines in engineering-rich 3D formats. Paletti product information is available the TraceParts Publishing Network, including one of the world's leading engineering marketplaces, the TraceParts www.traceparts.com website.
Paletti USA is part of a multinational company specializing in the production and assembly of T-slotted aluminum extrusion systems. The Paletti product line provides application solutions including linear motion systems, perimeter guarding, laser enclosures, frames and fixtures.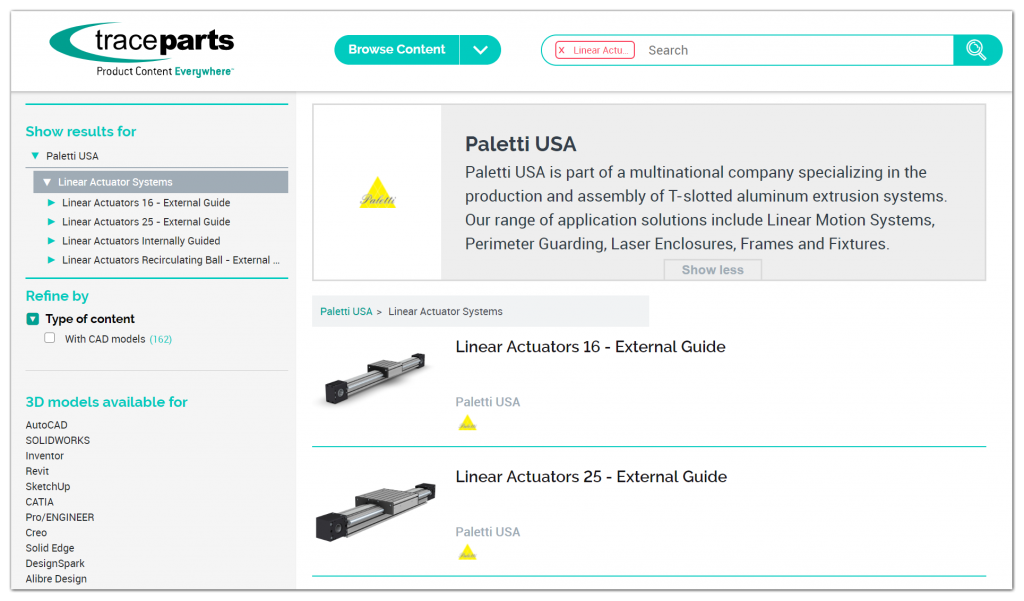 Chris Wysocki, Applications Engineer at Paletti USA, said:
We are pleased to announce our partnership with TraceParts and the publication of the Paletti USA product catalog on the TraceParts engineering platform that allows millions of registered users around the world to efficiently do business with Paletti USA.
A wide range of Paletti linear actuator systems and related products are now available on the TraceParts CAD content platform. Once configured, designers and engineers all over the world can immediately preview and download Paletti product data in more than sixty (60) different CAD and graphic formats and validate their designs in their engineering design systems.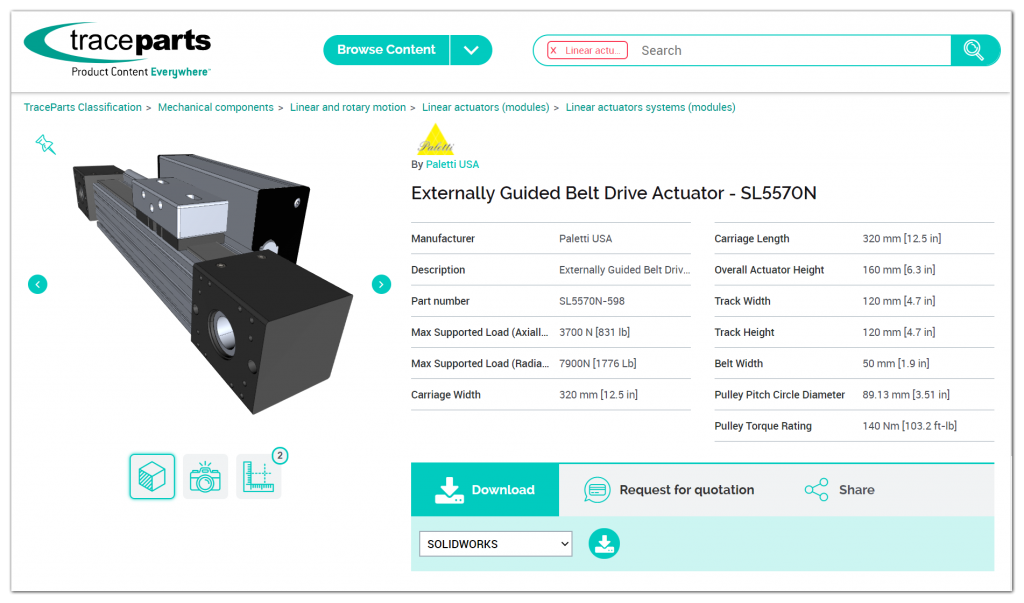 We are delighted that Paletti USA has chosen TraceParts as its valued product data partner. The Paletti product catalog, now available at www.TraceParts.com, allows millions of designers and engineers to access high quality 3D Paletti product data.

said Rob Zesch, President of TraceParts America
About Paletti USA
Paletti USA is part of the multinational Paletti Profilsysteme company that is a young organization active in the manufacture of innovative production methods, as well as producing future oriented technologies. Paletti's manufacturing strength lies in the development and manufacture of a universal modular-based profile system, made from aluminum.
Equipped with the most up-to-date CNC production facilities and with the support of a qualified team of engineers and specialists, Paletti Profilsysteme has quickly built an excellent reputation in the marketplace.
For more info, visit www.palettiusa.com.
About TraceParts
TraceParts is one of the world's leading CAD-content platforms for Engineering, Industrial Equipment and Machine Design, totaling 4.3 million registered members from 1.2 million companies actively sourcing product information and technical data from over 195 different countries.
As part of the Trace Group founded in 1990, TraceParts brings highly targeted marketing exposure to more than 800 customers of all sizes and from all industries, via powerful cloud-based API and SaaS applications such as CAD part libraries, product catalogs and configurators.
TraceParts' comprehensive Digital Marketing Services help part manufacturers and distributors, 3D printing & rapid-prototyping suppliers, CAD/CAM/CAE/ECAD software and computer hardware vendors promote their products and services and generate highly qualified sales leads.
Available free-of-charge to millions of Engineers & Designers worldwide, the TraceParts CAD-content platform provides access to over 1,222 supplier-certified product catalogs and billions of 2D drawings & 3D CAD models and product datasheets that perfectly match the digitalization needs of Design, Purchasing, Manufacturing and Maintenance processes & operations, in virtually any industrial sector.
Categories