ROSS Controls Chooses TraceParts 3D Product Catalog for its Isolation and Control Valve Products
---
CINCINNATI, OHIO and TROY, MICHIGAN USA (May 19, 2020) – ROSS Controls, a leading international manufacturer of pneumatic valves, controls systems and safety products for the fluid power industry, has partnered with TraceParts to publish its 3D product catalog.
ROSS Controls has designed and manufactured its products for the fluid power industry since 1921. ROSS Controls is helping its customers worldwide to increase productivity and deliver flexibility in manufacturing.
Scott Hilt, Global Marketing Director at ROSS Controls, said:
We are excited about the opportunity to work with TraceParts and pleased to make high-quality 3D ROSS Controls product data available from our website and to the millions of designers and engineers that utilize www.TraceParts.com and the TraceParts Publishing Network.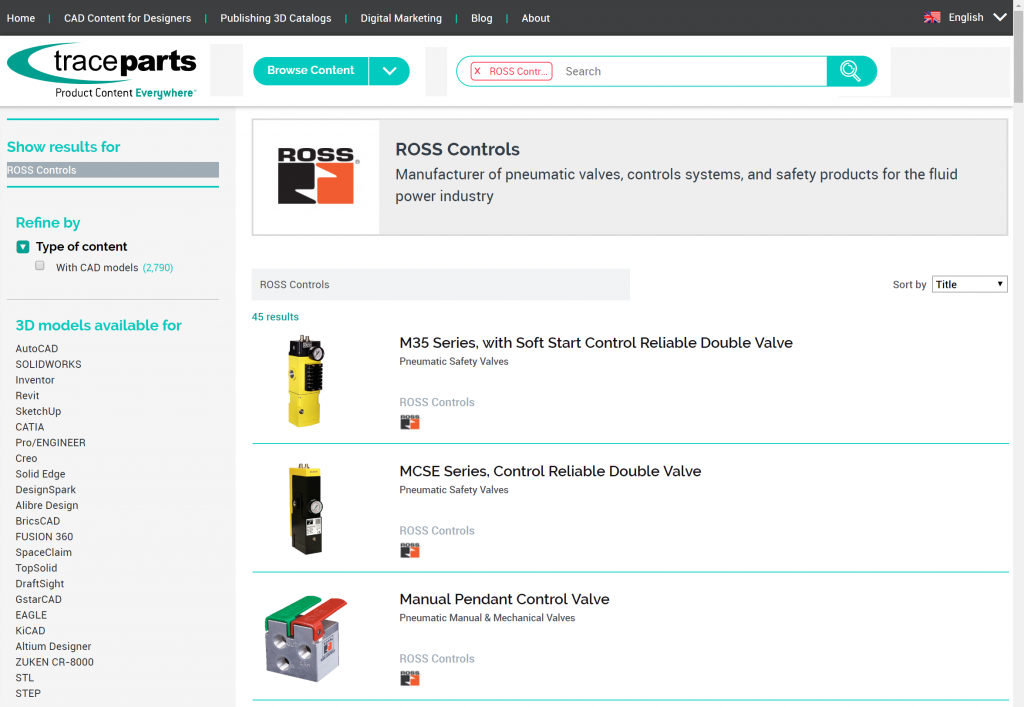 A wide range of ROSS Controls valves and related products are now available on the TraceParts CAD content platform. Once configured, designers and engineers all over the world can immediately preview and download ROSS Controls product data in more than sixty (60) different CAD and graphic formats and validate their designs in their engineering design systems.
The ROSS Controls product catalog, now available at www.TraceParts.com and on the ROSS Controls website, allows millions of registered users around the world to efficiently do business with ROSS Controls using the TraceParts engineering platform,

said Rob Zesch, President of TraceParts America.
Not only does this mean added service value for ROSS Controls, but also a considerable increase in its reach and visibility in the marketplace. We are delighted that ROSS Controls has chosen TraceParts as its valued product data partner.
About ROSS Controls
Established in 1921, ROSS Controls designs and manufactures pneumatic valves, control systems, and is universally recognized as a global leader in fluid power safety solutions and poppet valve technology.
ROSS' has recently acquired Decco, Automatic Valve, and Pneumatrol who all share a common culture as family-owned companies and a common vision – providing the highest quality products to customers, backed by outstanding customer service. The ROSS companies also share a passion for innovation and for customer-centric engineering solutions supported by world-class manufacturing techniques.
For more info, visit www.rosscontrols.com.
About TraceParts
TraceParts is one of the world's leading providers of 3D digital content for engineering. As part of the Trace Group founded in 1990, the company provides powerful web-based solutions, such as CAD part libraries, electronic catalogs and product configurators.
TraceParts offers digital marketing services to help part vendors, 3D printing suppliers, software and computer hardware vendors promote their products and services and generate high-quality B2B sales leads.
The
TraceParts
portal is available free-of-charge to millions of CAD users worldwide. It provides access to hundreds of supplier catalogs and more than 100 million CAD models and product data-sheets that perfectly meet the specific needs of design, purchasing, manufacturing and maintenance processes and operations.
Categories