SODECA's fans and extractors celebrate five years of digitization on the TraceParts platform
---
07-01-2021
Krunoslav Rašić
Saint-Romain, January 7th, 2021 – SODECA, a manufacturer of air treatment solutions, has reiterated its trust in TraceParts for digitizing and promoting its industrial fans, ventilation systems and smoke extraction systems.  
Since 1983, SODECA has specialized in smoke extraction and pressurization control systems, fans for explosive atmospheres and air purification systems in commercial, industrial and residential areas.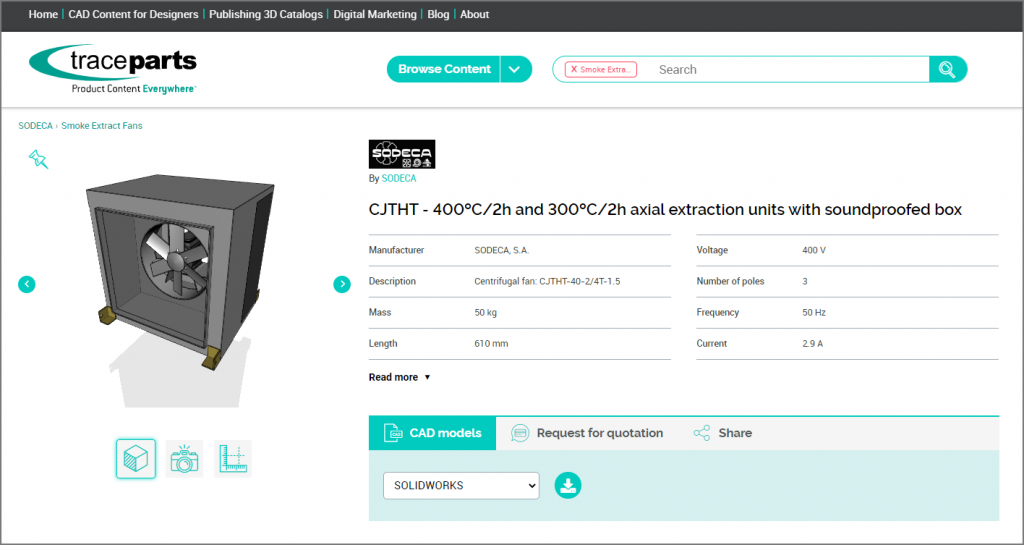 SODECA choose the TraceParts solution five years ago, primarily to deliver free high value-added content to its customers.
Outsourcing the process of creating and publishing our products to TraceParts allows us to give our customers access to quality CAD models in a large number of formats.

Since our CAD models are available over the TraceParts platform, our teams no longer need to worry about responding to requests for technical data and can instead focus on creating new products.

explains Mònica Danés, Head of the Communication Department
Thanks to its products' CAD models that are already available online and can be downloaded by designers and engineers around the world, SODECA can concentrate its activities on air purification systems, with applications in industrial, commercial and residential buildings for preventing viruses and bacteria from spreading through the air, which is essential during the current health crisis.
About SODECA
SODECA specializes in the design and manufacture of fans and accessories for industrial applications requiring the flexibility to adapt to each project's specifications.
About TraceParts
TraceParts is one of the world's leading providers of 3D digital content for engineering. As part of the Trace Group founded in 1990, the company provides powerful web-based solutions, such as CAD part libraries, electronic catalogs and product configurators.
TraceParts offers digital marketing services to help part vendors, 3D printing suppliers, software and computer hardware vendors promote their products and services and generate high-quality B2B sales leads.
The
TraceParts
portal is available free-of-charge to millions of CAD users worldwide. It provides access to hundreds of supplier catalogs and more than 100 million CAD models and product data-sheets that perfectly meet the specific needs of design, purchasing, manufacturing and maintenance processes and operations.
Categories