TraceParts CAD-Content Platform Reaches 1,000 Supplier-Certified Product Catalogs
---
17-11-2020
Krunoslav Rašić
Saint-Romain, France, November 17th 2020 – TraceParts, a world-leading supplier of rich digital content for industrial designers, is proud to announce the publication of the 1,000th product catalog on TraceParts.com.
Delivering highly detailed product information to engineers, each catalog is provided by some of the leading part suppliers in mechanical, electrical, electronics, manufacturing engineering, pneumatics, hydraulics, sensors and measurement systems and many more types of components.
3D modeling is a key part of modern design. The power of the latest CAD (Computer Aided Design) software systems has placed advanced tools in the hands of customers. The ability to download CAD-native 3D models boosts design productivity while drastically reducing time-to-market to launch new products. Surveys have shown that 88% of all downloaded parts are subsequently ordered, making this a powerful tool to ensure products are designed-in.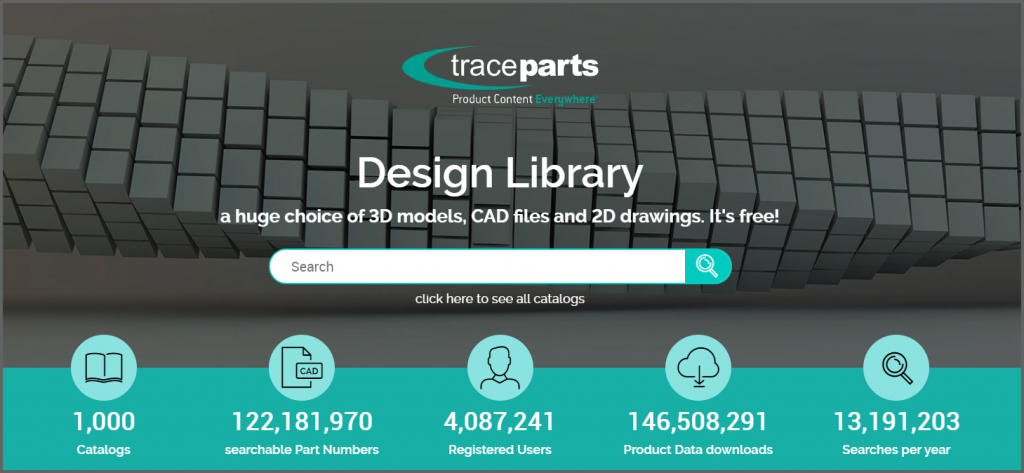 Hundreds of component suppliers are already working with TraceParts, publishing their CAD models to engineers and designers worldwide. The TraceParts engineering community now boasts over 4 million registered members, who are able to access 122 million part numbers in more than 60 CAD-native and neutral formats.
In addition, TraceParts catalogs are published to a wide range of well-known engineering websites, including DesignSpark.com, 3DContentCentral.com and CAD.de, extending the total reach to nearly 30 million professional designers worldwide.
We are extremely proud that so many leading part suppliers have chosen TraceParts platform to deliver their 3D models.

explained Bertrand Cressent, TraceParts Global Product Manager
Our 30 years of experience, providing rich product data to industrial designers and generating high-quality sales leads, allows us to be a key partner to manufacturers around the world.

By publishing their 3D CAD models to such a global and highly qualified audience, we act 24/7 as their value-added sales and marketing partner during the design-in phase of their products.
Just a couple of weeks after having exceeded 4 million registered members, the 1,000th product catalog released on TraceParts.com represents a key milestone in TraceParts' development as one of the world's leading suppliers of 3D digital content for the engineering sector.
About TraceParts
TraceParts is one of the world's leading providers of 3D digital content for engineering. As part of the Trace Group founded in 1990, the company provides powerful web-based solutions, such as CAD part libraries, electronic catalogs and product configurators.
TraceParts offers digital marketing services to help part vendors, 3D printing suppliers, software and computer hardware vendors promote their products and services and generate high-quality B2B sales leads.
The
TraceParts
portal is available free-of-charge to millions of CAD users worldwide. It provides access to hundreds of supplier catalogs and more than 100 million CAD models and product data-sheets that perfectly meet the specific needs of design, purchasing, manufacturing and maintenance processes and operations.
Categories