Accelerating industrial product innovation through digital transformation
---
The advent of industry 4.0 has spawned a number of buzzwords, such as "big data", "digital transformation", "augmented reality" and the "Internet of Things (IoT)", which are increasingly topping the list of hottest topics at industrial trade shows, in specialized publications and on the web.
Although these subjects did not spring up overnight, we still try to picture what the factory of the future will look like.
On paper, there are no major obstacles when it comes to leading digital transformation, since part of the process involves a number of tools that are already available, including sensors, automated systems, big data, the Internet of Things and cloud computing.
But in practice, the challenge might not be so straightforward…
Building a smart factory consists in improving processes, methods and qualifications across increasingly complex platforms.
In this guide, I am going to provide a number of ideas and suggestions on how to ride the digital wave and keep ahead of the innovation curve.
Key elements, such as big data, 3D printing and augmented reality, will help ensure that your manufacturing company is ready to embrace the future.
We will also see that creating a digitally enabled factory is only part of the answer. Your communication strategy must also be digitalized to meet the buyer's new expectations.
Lastly, we will see several examples where industrial parts suppliers have successfully innovated to stay ahead of the competition.
---
Contents of the guide "Accelerating industrial product innovation through digital transformation"
Digital transformation for an innovative industrial firm: the key elements for a new strategy
– 3D printing


The critical challenges to be addressed in industry

– Building customer loyalty

– Adapting to the buyer's new expectations




Innovating in industry for greater success

– The behavior of buyers is changing

– Würth, an innovative company


How to innovate at a lower cost (and gain an edge over the competition!)

– Three challenges when choosing and implementing the right innovation 

–Six ways to rise above the competition




Three innovation strategies worth exploring

– Publish your product catalog in an online library

– Enhance your website with our CAD models

– Showcase your products with your mobile application


How did TraceParts help Samtec ramp up its productivity?
Conclusion
---
Not enough time to read it right now?
Download it for free in PDF format!
Digital transformation for an innovative industrial firm: the key elements for a new strategy
1 – Big Data vs. Smart Data
Big Data
Big data is a solution that gives everyone real-time access to giant databases.
It aims to replace conventional database and analytical solutions (business intelligence platforms using SQL servers) that are incapable of processing such vast amounts of data.
GAFA (Google, Amazon, Facebook and Apple) were the first to use this technology.
Big data represents the accumulation of data that have been harvested over the Internet in different ways, including the messages that we send each other, the videos that we upload, online purchase transaction records, mobile geolocation, posts on social networks, and shared pictures and videos.
The new technologies that have spawned the advent of big data and fueled its growth can generally be broken down into two categories.
On the one hand, there are storage technologies, which have especially been driven by the deployment of cloud computing.
On the other hand, there is the emergence of adaptive processing technologies, particularly the development of new databases geared towards unstructured data (Hadoop) and high-performance computational models (MapReduce).
Big data tends to be put in the same basket as smart data, but this is a mistake, since both concepts are different and do not pursue the same objectives.
Smart Data
Smart data is a different concept to big data and is mainly based on real-time data analytics.
Industry deals with smart data, not big data. Smart data is all about collecting, transforming (contextualizing) and using the right data to improve manufacturing processes.

Serge Catherineau, Marketing Director for the Connected Industry at Schneider Electric
The term "Smart Data" refers to a data analytics approach that involves examining the data directly at their source without needing to send them to a centralized system.
In a traditional system, data are first collected and then converted, fed into a database and processed in waves.
But with this method, data are generally obsolete by the time it comes to analyzing them.
Basically, big data tends to focus on quantity, whereas smart data tends to prioritize quality.
2 – 3D printing
Forget about traditional machining operations and make way for rapid prototyping!
Even though some manufacturers believe that 3D printing belongs to the realm of science fiction, additive manufacturing is well and truly making inroads into every sector of industry.
Additive manufacturing involves using a 3D file to print a specific material (such as plastic, metal or even ceramics), layer by layer, to create a complete three-dimensional object.
3D printing boasts a host of advantages, but the main ones are as follows: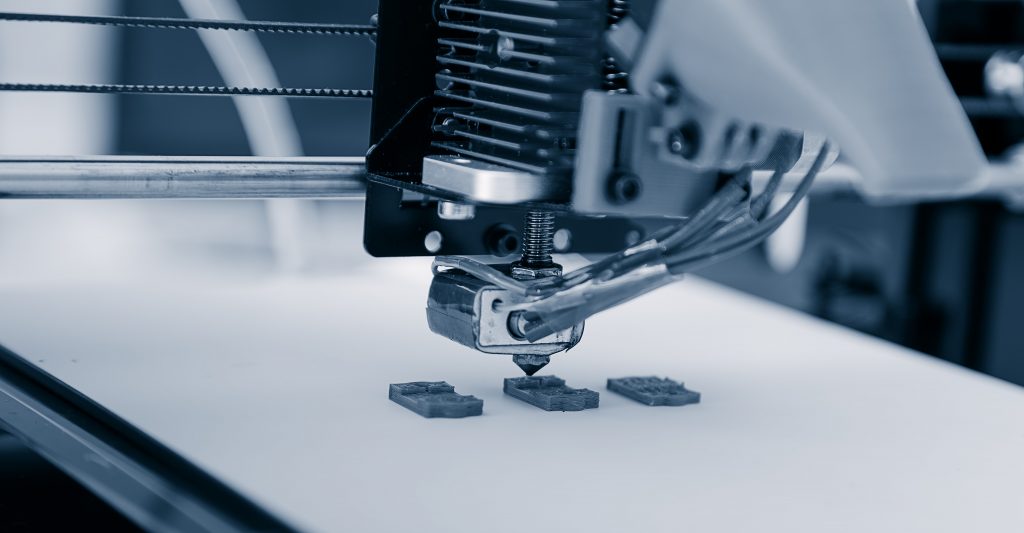 Reduced storage costs
You could save thousands of dollars a year by printing only the spare parts that you need to keep the production line running. You would also reduce your storage costs.
Spare parts can be produced quickly and cost-effectively
When a part shows signs of wear and tear on a production line, but is no longer manufactured, you can print that part in 3D using a similar material.
This prospect extends the service life of the company's production assets and saves thousands of dollars in replacements.
Reduced manufacturing costs
Generally speaking, a complex part printed in 3D costs less to produce than a part that is traditionally created by a numerically controlled machine.
Some parts are machined or cut from metal and then welded together, whereas you can create a 3D printed part in just one go.
Creation of prototypes
The ability to produce prototypes more quickly and create new products may generate substantial savings in terms of labor, material and tool costs, and investments in other processes that would normally be needed to design a prototype or customize a product.
3D printers used to be so slow, expensive and inaccurate that they were incompatible with mass production runs or the manufacture of oversize parts.
Nowadays, the market has become much more competitive through the use of higher-performance and more affordable machines.
3 – Marketing automation
In the B2C sector, more and more purchases are made online. Although behavior in the B2B market is different, practices are becoming increasingly aligned with the B2C market.
Professionals are still in the habit of prioritizing product quality, the company's reputation and the relationship with the sales teams.
However, your customers will check out and compare your products on the Internet before contacting your sales teams.
Although product quality and the company's reputation feature high among the buyer's selection criteria, they are not attributes that can be ascertained at first glance.
To do so, buyers need to find your products online! That is why it is so important to implement an inbound strategy, develop presence on the Internet and adopt a communication strategy geared towards your target market.
Marketing automation: a solution that is proving increasingly popular among manufacturers
We know only too well that sales cycles in industry may be long. Your prospects may move through different phases throughout the path to purchase, including "discovery", "consideration" and "decision".
With long sales cycles, it is unrealistic to believe that prospects will contact a supplier at the very beginning of their path to purchase.
Therefore, marketing automation will enable the company to set up so-called lead nurturing campaigns to regularly provide prospects with relevant information until such time as they feel ready to establish contact,
which brings me to the topic of the digital customer experience, an aspect that is critically important for creating a truly innovative inbound marketing strategy.
4 – Digital customer experience
As a brand in today's world, we need to offer something a bit more subtle to create a strong connection with our customers and thereby improve customer loyalty.
The web is awash with cutthroat competition, and consumers enjoy high-level digital experiences, meaning that both B2B and B2C companies need to raise the innovation bar if they are to successfully engage with their customers.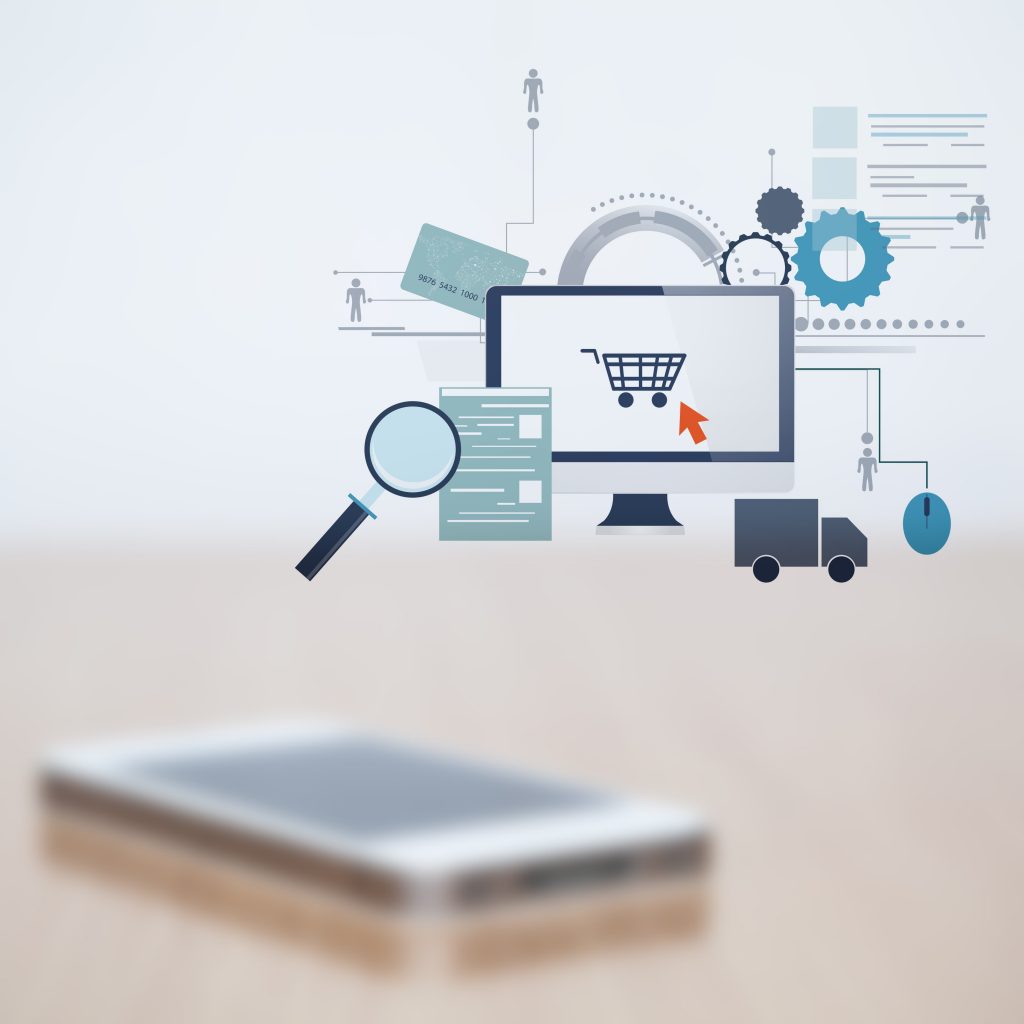 But what does the digital customer experience actually mean?
The digital customer experience refers to the combination of all the digital interactions between the customer and the brand.
Industry 4.0 technologies can generate new opportunities for innovation and growth at every stage in the customer experience.
Information from connected systems can improve direct sales and marketing strategies.
Whether simply browsing a website or discussing with a chatbot, the customer experience is rife with interactions. Together, let's look at some strategies for enhancing the customer experience:
Get to know your customers
After-sales satisfaction questionnaires, surveys about forthcoming special offers, idea boxes… there are many different ways to ask customers for their feedback and opinions.
This is an essential step for any company,
which can use that information to align its products with its customers' needs, who are then tempted to return.
If enough answers are provided, the company can even anticipate where its customers' requirements are heading.
The aim is not only to address their expectations, but increase proactivity and offer new products or features that are likely to be popular with consumers.
Creating marketing persona records will also be beneficial in this respect.
The digital customer experience must reflect your audience
If you are doing business in a technical market, your most important potential customer type is an engineer. Engineers are also consumers, but they have specific information needs.
To provide your engineering customers with the best digital customer experience, you must give them what they need in the most effective manner possible.
Improve customer support
After-sales service and customer support are essential in how customers perceive their experience and also for improving performance accordingly.
It can give the company an insight into how customers feel about the entire process (e.g. product deliveries) and not just about the pricing policy or quality of the interface.
Customer support advisers must be trained to pick out important information from callers' comments, such as by using key questions.
This information will considerably enrich the data that have already been collected, while improving the company's speed of response.
Be transparent and available for your customers
In addition to their stringent requirements when it comes to products and services, today's customers are looking for maximum transparency.
This can be achieved through such initiatives as frequently asked questions (FAQ) on the website or easy-to-find contact details, like an email address or telephone number on the homepage.
But they also want originality and interactivity. For some time now, short videos have been all the rage for quickly and easily explaining certain points.
Chat functionality has also gained traction, especially in service companies where customers can discuss with an adviser at any time on the website or mobile app.
The goal is to deliver a fast response to all types of problems.
5 – Augmented reality
Virtual and augmented reality allows engineers to handle product designs created by the software program as if they had already been manufactured.
For example, engineers can accurately view the consequences of each change made to any one of the elements in the design.
Once a change has been made with the software, engineers simply need to slip on their VR headset to see the results.
The design can be rotated and viewed from every possible angle to understand how the modifications affect the overall product.
Industrial designers can also use technology in the same way and collaborate with engineers through virtual reality.
On-site training is an area where augmented reality will be a godsend for the manufacturing industry, since digital guides can be developed that provide a step-by-step explanation of the manufacturing process, while offering tips and advice from experienced technicians to guide the trainee's hands every step of the way.
Augmented reality could free up labor, since it avoids the need for individual intensive training, insofar as information is available to everyone at all times, irrespective of their location.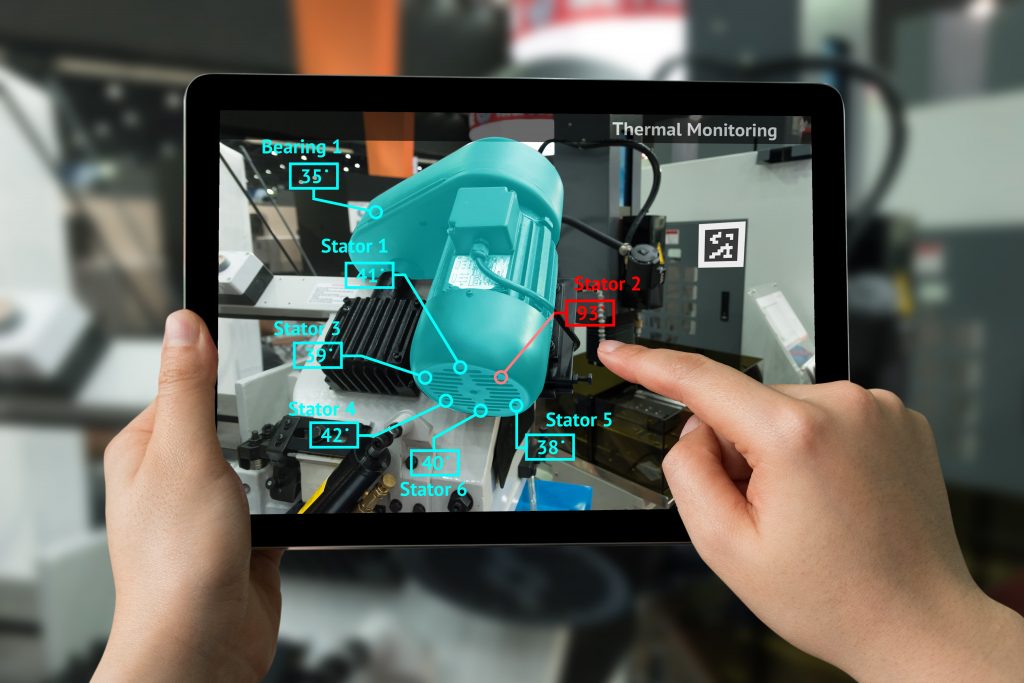 It also helps build interaction between your target market and your product.
The people using this technology change from being mere spectators to stakeholders. It may be an old formula, but it still works, namely getting people involved creates a buzz.
When attending a trade show or visiting a customer, this new technology really comes into its own.
For example, you can install a program on a tablet for viewing 2D plans in augmented reality.
You can also demonstrate how your industrial applications work, which is normally fraught with difficulties, but this time there are no logistical constraints. The solution is completely mobile thanks to the opportunities inherent in augmented reality.
Now that you are familiar with the latest trends sweeping industry that may increase your company's innovative edge, let's take a look at how these tools can be incorporated into a digital communication strategy.
Critical challenges to address in the industry
1 – Winning over new customers
Accurately defining your target market is THE first item on the to-do list before setting out to win over new customers.
Start by drawing a facial composite of the standard customer, i.e. the one who will be likely to purchase your products or services.
Defining a marketing persona is an essential stage before launching a communication/marketing campaign.
Once you have ascertained the expectations and habits, where will your persona look for information about your company: on the Internet, in the street, in the newspapers, on the radio?
This will enable you to choose the most appropriate distribution channel(s).
Setting up an inbound marketing strategy combining published content, social network posts and emails, will improve your Google ranking and cement your status as an expert in your field.
The whole purpose of inbound marketing is giving with the aim of receiving!
Write and publish more high value-added content, take part in break-out sessions during trade shows and boost your online presence.
All the ideas that can put your company's name on the map while addressing your customers' concerns are worth investigating!
You can also use your existing customers as ambassadors, because they are in the best position to give an objective account of your company. In addition, asking for your customers' feedback can help gauge their level of satisfaction with your products or services. Be customer-centric!
2 – Building customer loyalty
What is "customer centric"?
This strategy is becoming increasingly standard practice among companies.
Customer-centric means offering a long-term quality customer experience. Customers represent the focal point of the company's strategic business objectives.
Several indicators, such as CSAT, NPS and CES, are available for segmenting your customers and identifying the high value-added segments.
According to a survey by Northwestern University, 15% of the most loyal customers contribute 60% towards a company's total sales.
Once you have created your customer segments, you need to ramp up your efforts in reaching out to your high value-added customers.
Being customer-centric is all about:
Using surveys to understand what delights your most loyal customers.
Survey findings can reveal communication strategies for switching potential customers into loyal users of your products and brand.
Detecting the risks of dissatisfaction among your most loyal customers can save your company a lot of money by preventing customer attrition.
Analyzing the reasons for unhappy customers is an invaluable exercise for setting up action plans to improve the customer experience and thereby increase the number of loyal customers.
Engage all your company's employees with this state of mind and give them the facility to easily forward all customer-related information within the company.
Basically, your sales teams need to focus on the prospects who can create value for your company. The best prospects are those who purchase quickly, frequently and in large quantities.
Companies that fail to adopt a customer-centric strategy run the risk of seeing their customers defect to competitors offering similar products, but with a superior overall purchasing experience.
Deciding against implementing customer-centric changes may save you money in the short term,
but make no mistake: your market shares and profits will fall in the long term.
Dr. Peter Fader, Professor of Marketing at the Wharton School of the University of Pennsylvania
3 – Expand your market
Now that you know how to define your target market and build customer loyalty, I am going to give you a few tips on how to broaden your market.
Optimize your website
Your website must be translated into the target country's language.
A web user landing on an untranslated website will not go away with a positive experience of your website.
Bear in mind that all new visitors to your website are important prospects: they are tomorrow's customers and your company's future.
Therefore, visitors run out of patience if your pages take ages to load.
This important point should not be overlooked.
A customer support service may be a considerable advantage on your website.
Giving your prospect straight answers about your products via a chatbot or contact form is quick and easy to set up.
This will have a positive effect on your user experience!
The right content for your target audience
If you are doing business in a technical market, your most important target market is probably an engineer or designer.
This type of target market is on the lookout for content, including technical documentation, design information and 3D models.
You can make your product catalog available online on your website. Some parts suppliers decide to leave free access to their catalogs, while others require customers to open an account before they can view their catalogs.
You can also think about creating a catalog without any prices for your website.
To find out how much your products cost, visitors must register on your website.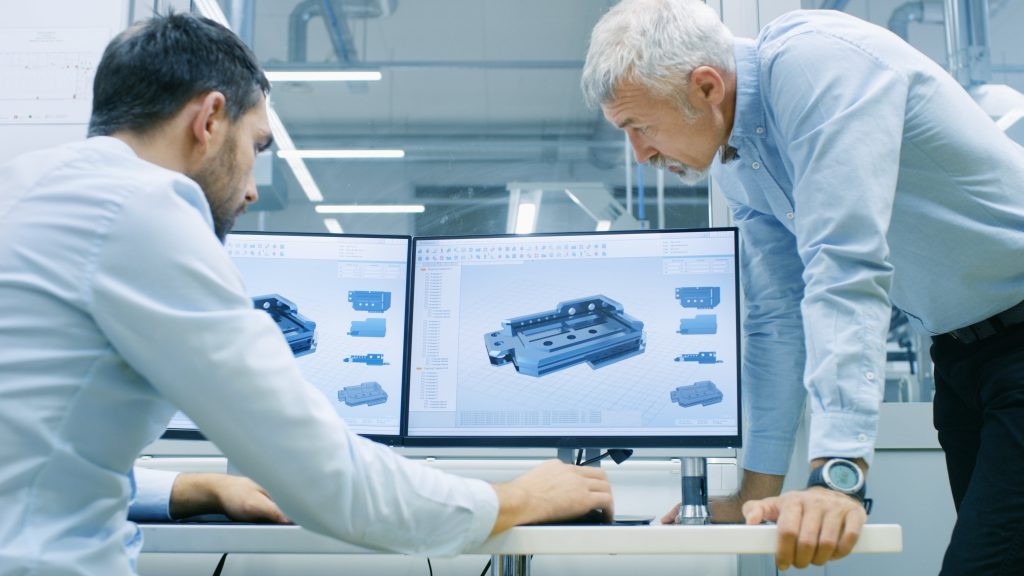 Use a different communication strategy!
As we have previously seen, the inbound marketing strategy will ultimately extend your market.
You can fire off email campaigns to all the people who have visited and performed an action on your website (such as submitting a form).
Inbound marketing is the key to ultra-targeted communications matching your chosen audience's expectations.
You can also communicate over social networks, since they can help you reach out to different target markets.
Feel free to identify influencers, i.e. loyal customers who will share your posts over the social networks.
4 – Adapting to the buyer's new expectations
Studies currently confirm that 90% of people have already taken their decision to purchase before making initial contact with the sales rep.
B2B buyers would rather obtain their information via search engines, mull their options over and then contact a sales rep when their decision to purchase has been made.
To adapt to the buyer's new expectations, why not sell your products in an e-shop?
These sales sites were initially designed for the B2C market, but they are slowly gaining traction in the B2B sector.
One thing is for sure, e-shops are definitely a worthwhile investment for gaining a competitive advantage! Over 80% of European industrial buyers regularly visit B2B e-commerce sites, and 49% of their industrial budget is now spent online, compared to 30% last year (UPS – Kantar TNS study on "Industrial Buying Dynamics").
Innovating in the industry to perform better
The behavior of buyers is changing
Before the e-commerce revolution began sweeping the world, manufacturers had to rely on traditional marketing channels, whether selling directly to customers or using a distribution network.
Technical information was supplied in the form of printed catalogs, and bespoke designs were created according to requirements.
Nowadays, your target market simply does not have the time to create individual bespoke designs.
To deliver the swiftest possible response to demands from potential buyers and customers, design professionals no longer redesign commercial off-the-shelf parts.
They download certified CAD files from the web, since it reduces the risk of any repetitions or errors.
In addition, it saves them time in their work, so that they can focus on more strategic projects for their company.
Once the CAD file for the part has been downloaded, studies show that the part is subsequently purchased in 88% of cases.
During the entire process, your sales team will not need to get involved, since industrial buyers will follow the path to purchase on their own until such time as they are ready to speak to a sales rep.
To address the new types of behavior that we have previously seen, several solutions are available for innovating.
Now let's look at the example of a company that has overcome the challenge of breaking new ground in industry.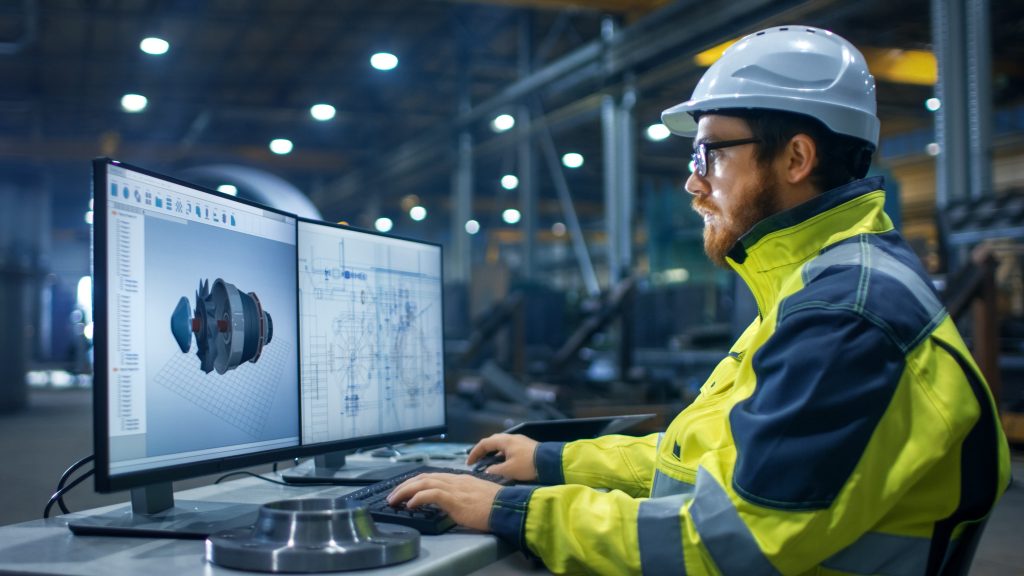 Würth launched its e-shop in 2013 and generated 0.8% of the company's revenue during the first year.
It now accounts for 5% of sales.
We are aiming to achieve 10% through digital technologies by 2020

explains Claude Kopff, former Sales Director at Würth and now senior executive and Chairman of the Board, who announced that the company is investing "several hundreds of thousands of dollars" in digital technologies.
Würth's digital technologies department has also grown. Five years ago, the department had just one employee, but that number has since climbed to ten, including a data scientist.
We are looking to use functional improvements to enhance the customer experience on our website

advises Jean-Luc Thesmar, Group Procurement, Marketing and Digital Technologies Director.
This involves adapting the website to m-commerce (55% of orders are placed on mobile devices), setting up a "click and chat" function to advise and guide web users with their choices, proposing complementary products matching the customer's profile and chasing up abandoned carts."
Jean-Luc Thesmar explains that the company is also ploughing money into generating more traffic to the website.
In addition, we are shaping the website as a real marketplace for our customers, who will be able to sign in by user profile with an order validation system, or even suggestions for recurring cart items."
Therefore, the idea is to personalize the customer relationship on the website and build trust, since the portal will feature verified user reviews.
Würth is also highly active on the social networks with no fewer than 22,000 fans on Facebook, a Twitter account and a LinkedIn profile with 40,000 contacts a year.
Important: the revenue generated by the stores and e-shop is passed on to the local sales rep.
Our sales representatives act as the brand's ambassadors out in the field, meaning that they have also tailored their approach to customers' new expectations and seen their role change into that of a sales engineer,"

explains Claude Kopff.
If you want to innovate just like Würth, here are three challenges that you can implement within your company.
How to innovate at a lower cost (and gain an edge over the competition!)
– 3 challenges to be tackled in choosing and implementing innovation
Information relating to industrial sites is growing in volume and becoming increasingly complex. Creating electronic documents and drawings is an escapable part of today's world.
Digitizing industry using such technologies as big data, 3D printing and augmented reality, takes longer to put into practice.
It involves digitizing additional hardware, infrastructures and equipment.
Here are a few tips that you can use to tackle the innovation challenge.
Standardize the tools
To create the ideal conditions for innovation, the sales teams need to work closely together and communicate effectively.
But in many cases, teams are scattered between different departments and sites, and they invariably use disparate technologies that often lower the efficiency bar and lead to mistakes.
Therefore, it is vital that all project teams can access the data relating to your prospects from the same tool.
Leverage your existing data
Converting your product diagrams into 2D no longer cuts it in today's world.
To save your customers and/or employees time, you must convert your 2D data into 3D.
Your products' simplified geometry will enable designers and engineers to save precious time with their design projects.
In addition, they will quickly know whether your products match their needs.
The product lifecycle (from design to marketing) will be even shorter.
Analyze all the data at your disposal
The Internet and new technologies offer tremendous opportunities to address your customers' expectations and needs more effectively.
They can help you examine the performance of your actions and your visitors' behavior in real time.
By uploading your parts catalog, you can study your customers' habits: What parts are they looking at? What are they doing with those parts? What devices are they using to browse your website? Which pages on your website are the most popular?
If you analyze all the data at your disposal, you can define actions that will yield better results and fine-tune your marketing strategy for peak performance as time goes by.
You will also be able to identify new drivers that you can action to generate more leads and win over new customers.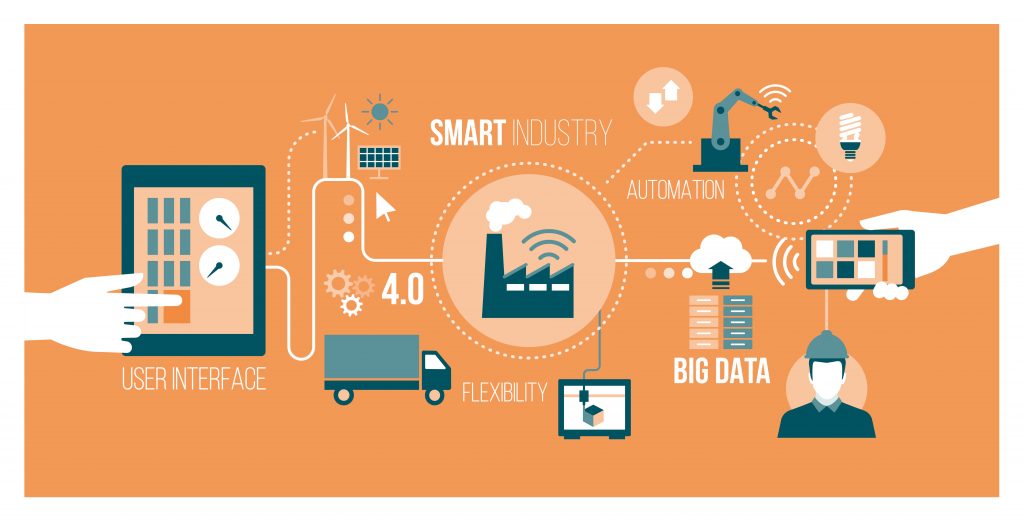 – 6 ways to differentiate from the competition
As a parts supplier, one of your everyday challenges is undoubtedly gaining an edge over the competition.
Let me give you six innovative, yet simple strategies that you can put into practice to leave the competition trailing in your wake.
Create a blog with relevant content associated with your products
When it comes to defining an inbound marketing approach, what could be better than creating a blog featuring a series of articles relating to the problems experienced by your customers?
Whether written by your own hand or an outsourcer, your articles will be aimed at generating more traffic.
If your articles are optimized for SEO, visitors looking for answers to their questions in search engines will come across your articles.
Blogs are still not used to their full potential in industrial marketing. Get your company onto the first pages of search engine results ahead of your competitors!
Set up an e-shop on your website or elsewhere
The e-shop may be available directly from your website or a completely separate entity.
The important thing is to give your customers the opportunity of purchasing your products online!
Changing your prospects' behavior also involves changing how they purchase. They will be more inclined to buy on a website rather than placing their orders over the phone or via a catalog.
If you already have an e-shop to promote your products, remember that you can create links straight to your e-shop from an online parts library.
Allow customers to view your products in 3D
By personalizing your navigation interface with web services or APIs, you can incorporate a 3D viewer into your website, so that your visitors can interact and view your products as images, technical drawings and 3D models.
If you are a manufacturer or distributor of electronic components, you can even display PCB footprints and symbols.
Giving your customers an interactive interface to view your products in 3D is an effective way of enhancing your product data sheets and attracting new users from the design community,
as well as building customer loyalty by offering a new high value-added service or improving the user experience on your e-commerce platform.
Make your products available in multiple CAD formats
Nowadays, engineers and designers scour the web in search of 3D models for the standard products that they need for the design projects they are working on.
This prevents them from having to redraw the parts themselves, which in turn improves their productivity and the reliability of their designs.
Making your CAD models available in different formats is required to suit the needs of your customers.
In addition, the designers and engineers who are likely to specify your products in their machine designs generally prefer using THE specific format of their CAD software.
Your 3D products must therefore be compatible with many CAD software.
This requires a conversion process.
Enlisting the services of 3D modeling experts simplifies the CAD models that you may wish to publish.
Furthermore, engineers and designers can use online libraries to download 3D CAD files in over 60 different formats, even in STL format, compatible with 3D printers.
These online platforms also allow parts suppliers to effortlessly convert their 2D products into 3D.
Offer a mobile app
This is a major challenge for industrial parts suppliers: industrial buyers want you to make their everyday life easier.
As we have previously seen, industrial buyers are always more connected when thinking about their future purchase. Statistics show that they increasingly use their smartphone in the workplace.
With a mobile app, you can give your customers access to your products and technical data whatever the circumstances.
With a mobile app, users have access to accurate and always up-to-date technical specifications… and in the right format!
With a mobile app, you can present your product lines in 3D, whether visiting a customer or taking part in a trade show.
This will give your customers and prospects a unique and interactive approach.
You will also reinforce your competitive advantage by creating a stronger brand image.
Three innovation strategies worth exploring
Publish your product catalog in an online library
An online library is a site that lists all your products. The site in question will then be classified for your products. Your library will also be exposed to an audience.
You can imagine that the products on your website have URL links pointing to the site. You can then benefit from that site's good e-reputation and recognition, which may be interesting from an SEO point of view.
Design professionals can download the CAD models of your products from the online library and obtain detailed technical information about your products.
By downloading the CAD models of your products in the format of their choosing, designers can quickly identify whether they can add your product to their projects.
It is a simple, yet effective solution for both designers and manufacturers.
This solution boasts a number of strengths allowing industrial parts manufacturers to:
Put their company on their target market's radar
Display their products with a 3D viewer
Benefit from technical support
Communicate their contact details, so that their product users can submit quotation requests
Compete with manufacturers in a similar product category who are already present on the platform
Enhance your website with your CAD models
This second solution can be combined with the first solution.
This means that you can upload your parts to both a shared library and your own website.
This solution is used by most manufacturers, but only a few of them publish all the information that their end customers need on their website.
Here is a non-exhaustive list of actions for enhancing your e-commerce site.
Provide a complete view of your product
An attractive visual
Providing a 3D visual of your products allows B2B customers to quickly view the product and determine whether it is suitable for their design project.
A 3D visual is also the most appropriate solution for showing the product's specific technical features.
Technical documentation
In addition to the technical details displayed on your website, your product data sheets can be made available in PDF format.
Product characteristics and dimensions
The more information you give to your customers about your products, the more they will be able to determine whether or not that is the product that they need to buy.
Create a space for direct ordering
Create a space on your website, so that visitors only need to enter the product reference numbers and the required quantities, which are then added to their cart. This facility can easily ratchet up sales!
Generally speaking, a direct ordering space is located at the top of the page so that visitors see it when landing on your website.
Visitors who enjoy this type of tool tend to be those who have already come to purchase products from your website. In other words, they do not have any time to lose visiting the pages on your website.
Create multi-criteria filters
Size, diameter, height, width, brand, color and material are just some of the criteria that may be decisive, but they may especially waste time for potential buyers if they need to write down the characteristics of the required products at the same time.
The more users can narrow down the product search criteria, the more your e-commerce site will be attractive to visitors.
Propose similar products to those that visitors are currently viewing
This marketing technique generates sales in addition to those currently being performed.
The products shown on the data sheet of the product being viewed must be related.
For example, if you are looking to purchase a sink, you may also be interested in the corresponding sink drain and mixer tap.
Present your products with your mobile app
According to a recent survey among users of the TraceParts online library:
37% of design professionals regularly use a smartphone or tablet to look up suppliers.
This means that design professionals have also been swept up by the smartphone wave. Although desktops and even famous paper catalogs remain their main work tool, you should not completely close the door on mobile apps.
Mobile apps may be an essential part of the B2C market, but they are gradually gaining ground in the B2B sector.
More practical and easier to use, apps make it simpler to view Word and PDF documents. They are also more user-friendly and can be a significant asset for showing your products during a trade show or customer meeting.
How did TraceParts help Samtec ramp up its productivity?
Samtec, a manufacturer of electronic interconnect solutions, has been digitizing its products for over 10 years to provide its customers with CAD content.
Requests for CAD models used to be managed one by one at the customer's request. When demand went through the roof, technical and financial reasons prompted Samtec to look for a long-term solution.
The point that tipped Samtec's choice in favor of the TraceParts solution was to possess the 3D models for its products and manage distribution through physical access to the files.
That is ultimately what allows Samtec to legally and freely reuse its 3D models in neutral or native CAD format among its distributors or end customers.
With TraceParts, we have reached out to users that were previously out of range, because the solutions we had implemented internally had exceeded our ability to manage demand for CAD models. This new service was up and running in no time thanks to the modeling team, which handled the digital design process.

We also make extensive use of TraceParts Analytics to analyze our catalog's performance and thereby gain an insight into our customers and what they need. Understanding all of that has given us the keys to adapting our game plan to suit our constantly changing industry,

explains Daniel Williams, Digital Marketing Director at Samtec.
Conclusion
Innovation is within reach of all parts suppliers. There are several ways to blaze a new trail in industry.
We have seen that the first prerequisite for innovation involves digitizing the tools to improve communication between the factory's different units.
A digitally enabled factory can also save time through predictive data analytics and augmented reality, which simplifies training and machine maintenance.
Digital technologies can also save your company time.
Converting and uploading your products in 3D will make life easier for your customers. Making your products available in 3D will also lighten your teams' workload, so that they can focus on more important projects.
In addition, you will respond to your customers' requests with greater reactivity, which equates to higher satisfaction.
Speaking of customer satisfaction… as you have seen in this e-book, it represents a critical link in an effective and innovative communication strategy.
Customers are king, so everything must be tailored to their needs and concerns. That is why we have addressed the topic of "customer-centric" and marketing automation.
Marketing automation will enable you to "feed" your leads until they are ready to make contact with your sales team.
Remember what Steve Jobs used to say: "Innovation distinguishes between a leader and a follower."
Steve Jobs' innovative streak was not only apparent in the products that he marketed. He also showed his innovative flair by proposing a new way of selling the product.
Now it's your turn!
Would you like advice from our experts on how to create a must-have product catalog?
Our experts in 3D product marketing will answer your questions in less than 30 minutes!
Categories