A newsletter specifically devoted to 3D printing, prototyping and 3D scanning
---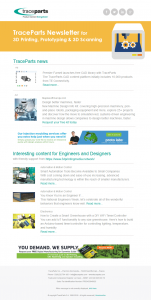 If your company works in the field of additive manufacturing, take advantage of this specific newsletter aimed at the 3D printing sector to promote your products and services
Post your advertising messages in this quarterly newsletter and reach an audience that has shown specific interest in this sector.
In each newsletter, you have the opportunity to promote your products using advertising banners: the banners include images and texts with a link to your landing page.
You can also use Text Ads which consist of an image presenting your message – designed to look like a piece of news about the sector – with link to your landing page.
You can find all 3D Printing, Prototyping & 3D Scanning Newsletters sent by TraceParts at: http://info.traceparts.com/blog/category/newsletters/3d-printing-nl/