Thank you for you request concerning the newsletter devoted to 3D printing, prototyping and 3D scanning
---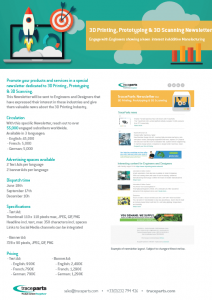 Thank you for your interest in our special additive manufacturing newsletter.
One of our Digital Marketing experts will contact you as soon as possible to discuss your project in detail.
You can download the full description of the newsletter devoted to the 3D printing sector here:
https://info.traceparts.com/download/155/en/26136/traceparts-3d-printing-newsletter-factsheet-2020.pdf
If you want to use E-Mail Marketing to promote your products or services, you can download the brochure about Engineers and CAD Designers who express their interest in 3D Printing, Prototyping and 3D Scanning to learn more about this target and how many addresses you can reach.