3D printing, prototyping, 3D scanning: how do you spread the word about your innovative offer?
---
23-10-2019
Priscillia Granval
In the fast-growing sector of 3D printing, prototyping and 3D scanning, new firms are flocking and competition in the market is rocketing.
In addition, not all manufacturers operating in the B2B market have the necessary maturity to procure and use these types of products or services. They account for only 4% of all 3D printers sold.
As a marketing professional working in the additive manufacturing sector, you need to guide your prospects and promote your innovative range of products and services.
Not all your prospects are necessarily aware of the added value that your company can bring to their organization.
This guide will identify the main obstacles standing in your company's way and will help you set up a strategy for creating new business opportunities and generating demand in a market that is still relatively immature.
Content of the guide "3D Printing, Prototyping, 3D Scanning: how do you spread the word about your innovative offer?"
Download the complete free PDF guide to make your innovative offer known when you are a professional in the 3D Printing industry
---
Introduction: How to make your innovative offer know when you are a professional in the 3D printing industry?
3D printing emerged over 30 years ago, but only now is this technology undergoing explosive growth.
According to US industry analysis firm SmarTech Publishing, the additive manufacturing market generated revenue of no less than $9.3 billion in 2018.
By way of comparison, revenue was "only" $4.1 billion in 2014. This figure encompasses hardware, software, materials and services, and represents an increase of 18% vs. 2017.
In 2019, the 3D printing market will break the symbolic $10 billion bar and will continue climbing to reach $11.2 billion in 2020.
New firms are flocking to this fast-growing sector, and competition in the market is rocketing.
In addition, not all manufacturers operating in the B2B market have the necessary maturity to procure and use these types of products or services. They account for only 4% of all 3D printers sold.
As a marketing professional working in the additive manufacturing sector, you need to guide your prospects and promote your innovative range of products and services.
Not all your prospects are necessarily aware of the added value that your company can bring to their organization.
You need to educate them, nurture their thought processes and answer their questions while demonstrating that your company is THE solution to their everyday problems.
At the same time, you need to be capable of creating a service that is specifically geared towards those organizations wishing to stay ahead of the innovation curve.
Not all your prospects will have reached the same level of maturity. They will also be at different stages in the consideration stage. Therefore, you must define a strategy for supporting and guiding your prospects from start to finish.
This guide will identify the main obstacles standing in your company's way and will help you set up a strategy for creating new business opportunities and generating demand in a market that is still relatively immature.
The top four obstacles holding back additive manufacturing professionals
Although the technology has been around for some time, it is struggling to embed itself in manufacturers' minds as a direct production method that can dovetail alongside existing processes.
For many manufacturers with their tried-and-tested production processes and habits, incorporating 3D printing heralds a real innovation in their daily practices.
In many companies, the issue of adopting the technology has never even been brought to the table.
As sector professionals, major efforts must be made to mainstream the technology and guide manufacturers towards greater maturity.
Here are the top five obstacles that 3D printing, prototyping and 3D scanner professionals run into when trying to spread the word about their innovative products and services.
1. The 3D printing market has yet to mature
Growth in the additive manufacturing market has mushroomed in recent years with scores of newcomers and a host of increasingly sophisticated and hi-tech processes.
Despite such innovations, demand often struggles to take off. Most manufacturers are not mature enough to incorporate additive manufacturing into their production processes.
Whether small businesses or large organizations operating in such industries as vehicle production, aviation or healthcare, additive manufacturing can be used in a wide number of fields and has the potential to drive growth for those companies that embrace the technology.
But before that can happen, manufacturing firms need to be aware of the technology and then adopt it. That is often where the problem lies.
Additive manufacturing requires an overhaul of all the steps involved in manufacturing a product, especially design and functional optimization.
Significant efforts must be made to raise awareness of the technology and bring it into widespread use among all manufacturers, whether small or large and regardless of their sector of activity.
3D printing, prototyping and 3D scanner professionals are sitting on a tremendous growth opportunity, and educating prospects is the key to unlocking that potential.
You need to tailor your pitch to the type of prospect, i.e. those who are completely oblivious to additive manufacturing and those who have heard about the technology, but have not been brave enough to take the plunge.
Since additive manufacturing processes are now mature, companies who have been reluctant to adopt the technology need reassuring. They must realize that they have to invest in additive manufacturing to keep their competitive advantage.
2. How do you justify the cost of 3D printing for manufacturers?
To reach out to the largest possible number of prospects and broaden your audience, you need to mainstream the technology and reassure your audience about the advantages of incorporating additive manufacturing into their company.
As you have probably guessed, once additive manufacturing has become a household name and manufacturers have started taking an interest in your solutions, one of the objections that you may encounter is how much money the investment will cost the company.
Additive manufacturing requires buyers to review all their selection criteria well beyond the boundaries of the traditional supply chain.
In addition, a real learning effort is required to get to grips with the technology. Training may be outsourced to specialized companies, which incurs extra costs in addition to the price of a 3D printer.
Here is a six-step insight into how buyers view their decisive criteria (QCTCES)
A. Quality
In industry and more generally in research and development (R&D), the OECD defines a prototype as an "original model constructed to include all the technical characteristics and performances of the new product."
Prototyping activities have undergone major changes with the advent of 3D printing.
This technology enables designers, architects and other engineers to create prototypes even faster.
These professionals are more responsive and creative. They can also carry out more testing.
The products ultimately manufactured are of a higher quality. Therefore, additive manufacturing meets the need to produce the high-quality prototypes that buyers are looking for.
B. Cost reduction
When manufacturers adopt a new technology or tool, they are typically attempting to drive down their production costs.
Once again, additive manufacturing is a solution, because it has the potential to lower costs during both the consideration and production stages:
R&D teams can convert their ideas into viable projects without having to create models with elementary tools.
Concepts, whose appearance and operation correspond to the final product, can save significant money in comparison to a conventional process where prototypes are created in small numbers using expensive facilities and tools.
Additive manufacturing obviates the need to mass-produce prototypes in an effort to reduce costs.
In addition, 3D printing allows manufacturers to relocate production, i.e. since costs are relatively low, they can control the entire process in the same place, from design and conceptualization through to production.
Each product can be manufactured without the need for a milling machine or new assembly line. In other words, production costs are considerably reduced.
C. Delivery
After quality and cost reduction, delivery times are typically another important criterion for manufacturers.
Additive manufacturing saves considerable time when creating prototypes and fabricating the finished product.
R&D teams can quickly run a number of tests without getting bogged down in a time-consuming prototyping process, thereby shortening the time from several weeks to just a few days.
When it comes to production, the time between receiving the customer's order and shipping the product is faster, since there are fewer steps in the manufacturing process: there is no longer any need to break the product's manufacture into several different operations and create specific tools.
The following diagram clearly shows the main advantages with additive manufacturing.
The arrows indicate the mold and product transport stages that could be cut out or reduced by using these techniques, obviously provided that the manufacturer has the necessary materials.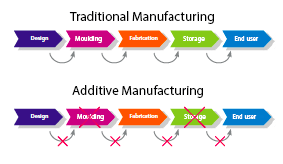 D. Customer Satisfaction
Customer satisfaction continues to gain in importance and is clearly an obligation for all manufacturers.
In today's world, customer satisfaction revolves around customized products and fast availability.
Additive manufacturing satisfies this requirement, because it enables companies to inexpensively produce parts in small quantities, which allows for even greater latitude in terms of product customization.
This means that manufacturers can broaden their range and offer products specifically tailored to their customers' needs without having to invest any additional capital into the business.
3D printing heralds a major source of differentiation, meaning that companies can gain an advantage over their competitors.
Bearing in mind that unhappy customers will take their custom elsewhere, the aim is to pre-empt any dissatisfaction and be attuned to what customers truly want.
E. Environment, Ethics, Ecology
In today's world, manufacturers are looking to measure, prevent, minimize and remedy their impacts on the environment.
Such new practices as Lean management (methodology focused on minimizing waste during production) have emerged.
Additive manufacturing addresses this need as well.
Printing an object only wastes a tenth of the material, which is less than traditional manufacturing.
Additive manufacturing reduces the amount of materials used, lowers the quantity of waste generated and restricts or even completely eliminates overproduction.
A single machine that is capable of printing a large number of designs and even several parts at the same time can lower the company's dependency on energy-intensive machinery and tools.
Environmental gains are also reflected in transport and packaging, since production can be insourced.
This technology does not claim to replace traditional manufacturing processes, but instead offers an environmentally-friendly alternative for applications where functional gains translate into environmental gains.
This is another advantage that should be promoted when bringing additive manufacturing into widespread use.
F. Safety
A decisive criterion for the company purchasing your solutions will be the prospect of eliminating all the risks associated with mass production.
Since the technology is fairly recent and currently experiencing explosive growth, the process of developing related standards is hampered by the fact that systems, materials, processes and techniques are constantly changing.
Standards help remove any technical trade barriers, which leads to new mature markets and economic growth. They also simplify technology transfers and improve product safety.
Since ASTM (American Society for Testing and Materials) and ISO held their first joint meeting on additive manufacturing in July 2011, major progress has been achieved in consolidating and adopting regulations.
Regulatory organizations that are active in this field (ASTM (F42), ISO (TC 261) and CEN-CENELEC (TC 438)) have joined forces to create technical committees.
In 2016, the three standardization organizations signed a cooperation agreement to develop three tiers of joint standards:
General standards (general concepts and common requirements)
Standards for broad categories of materials or processes
Specialized standards (requirements for a specific material, process or application)
The European Commission has defined an Additive Manufacturing Standardization Roadmap, coordinating a group of over 120 companies involved in the additive manufacturing industry around the world, most of which are based in Europe.
Therefore, companies will need to know how to address buyers' questions and fears about safety in the additive manufacturing industry.
3. How do you prove the ROI from your solutions?
Companies can only survive if they innovate, modernize their processes and offer new products and services to their customers and prospects.
Industry 4.0 is very much alive and kicking. Manufacturers should not miss the additive manufacturing train, but not all of them are necessarily aware of the technology.
They fail to realize just how much their company stands to gain from this innovation, so they need convincing!
Proving the ROI from your solutions will be a tremendous help in winning over new customers.
Manufacturers can use this technology to insource and control the entire process of conceptualizing, designing and manufacturing a part without having to enlist the services of an outsourcer.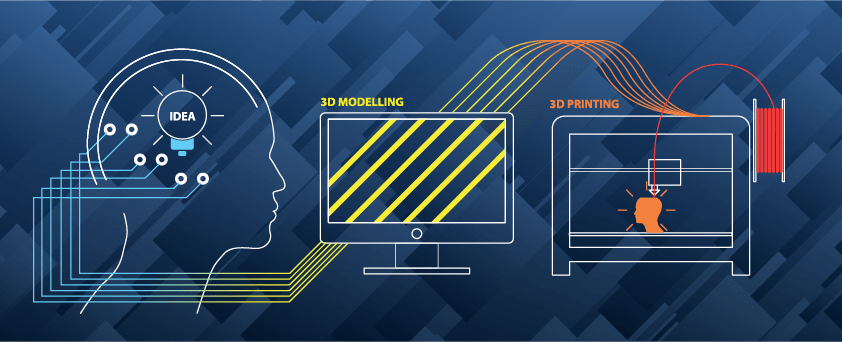 This prospect will shorten the production chain and thereby save money for the manufacturer.
Manufacturers who decide to adopt this technology may sharpen their competitive edge, because they will be capable of masterminding new products faster that specifically satisfy their customers' needs.
Your prospects may be "impressed" by the thought of investing in additive manufacturing, because it represents a real technological jump-start, but also a financial investment.
As with any technological breakthrough, it may frighten manufacturers who are sometimes struggling to modernize their processes and production assets.
Therefore, buyers will weigh up the costs involved in implementing the technology.
Additive manufacturing should be designed as a real corporate project featuring a number of advantages for both internal and external customers (in-house innovation for the teams, lower manufacturing costs, customer satisfaction, time savings and a competitive advantage).
Each department can benefit from 3D printing:
The maintenance teams will have quick access to cost-effective spare parts. This will extend the service life of the company's machinery and save significant money in terms of replacement parts.
It will be less expensive to manufacture complex parts with 3D printing compared to a traditional process where several different steps are required.

Research and development can design prototypes even faster.

The sales and marketing teams can use the prototypes to specifically promote the company's products and innovations.
In this case, the company offers a new innovative range of products and services to its customers and gains an advantage over the competition.
of companies that use additive manufacturing see the technology as a competitive advantage, and half of those companies consider the technology to offer a good ROI.
To convince the most reluctant prospects about the returns that they can expect from your solutions, you have no choice but to show them various case studies, the findings of surveys carried out among your customers and cost comparison tables.
You must provide professional users with practical guides to help them quantify how much they stand to gain by using additive manufacturing in their companies. Figures and hard data are the only solution when facing an immature market.
In most cases, figures are what make the most sense for manufacturers and what will convince them.
4. How do you generate demand / needs?
Since the market has yet to reach the same level of maturity as your solutions, you need to put your brand and products on the map and bring the technology within easy reach of all your prospects.
The challenges that come with additive manufacturing include disseminating new knowledge, supplying new tools and changing mindsets so that manufacturers can take a different approach to designing and producing their products and services.
Manufacturers need information about the processes and their applications (design, finishing and training), as well as the benefits and changes that this type of technology will bring to their companies.
Therefore, the challenge is creating demand and proving to engineers and designers in engineering departments and consultancies that they will save considerable time and money when printing parts, creating a prototype straight from a file that is compatible with 3D printing (STL) and re-engineering the entire product design and manufacturing process.
To achieve that aim, you will need to guide your prospects in changing their way of thinking, guiding them towards maturity and convincing them that your company has THE solution for venturing down the additive manufacturing road.
The market is actually home to a wide variety of solutions, meaning that it is easy for the uninitiated to lose their bearings. You need to be there at the right moment when they are ready to put words into action.
You must take an in-depth look at your target customers and their understanding of additive manufacturing if you are to provide educational content at each stage in the consideration phase and answer any questions that they might have.
When you create content, you need to put yourself in your potential customers' shoes and realize that they might not necessarily be familiar with the technology, so use simple terms to teach them all about additive manufacturing. Your communication must be geared towards the different stages in your target market's understanding.
As you undoubtedly know, there has been a shift in the buyer's behavior. When they start thinking about procuring a product or service, they would rather do their own research than being contacted by a sales rep.
Indeed, 57% of buyers complete their purchase journey alone before talking to a sales representative (Executive Board)
If you analyze your target customers, you will find out how they gather information, which websites they visit, which medium they prefer and which problems and obstacles they are facing.
Delivering support and guidance, educating and being available while your prospects are considering the potential solutions is the key to generating new business opportunities.
You will create demand by supplying information and bringing the technology within easy reach of those prospects who are raising questions about the subject.
How do you create new business opportunities in an immature market?
When dealing with an immature market, you need to educate your prospects and explain your range in clear terms, so that they understand how your products and solutions fit their needs. This is what is known as lead nurturing.
To nurture your prospects during the consideration phase, there are several ways to raise your profile, demonstrate your expertise and broaden the appeal of additive manufacturing.
Here are the four key strategies that you should follow to educate your prospects, develop their maturity and generate new business opportunities.
1. SEO strategies for your website
Before engaging with a new service provider or investing in a new solution, prospects will check out the content available on the web.
Therefore, you can turn this situation to your advantage by working on your SEO and creating quality content that will feature high up the list of search engine results and which correspond to the questions that your prospects are raising during the consideration phase of their path to purchase.
If they type a question into a search engine or use the new voice search technology, you will be in a win-win situation if the content that you have created matches their queries.
That is why it is so important to know who your prospects are! Everything is related!
If you are not clear on who your target customers are, there is no way that you can create relevant, quality content that will catch their interest and guide them through the consideration phase.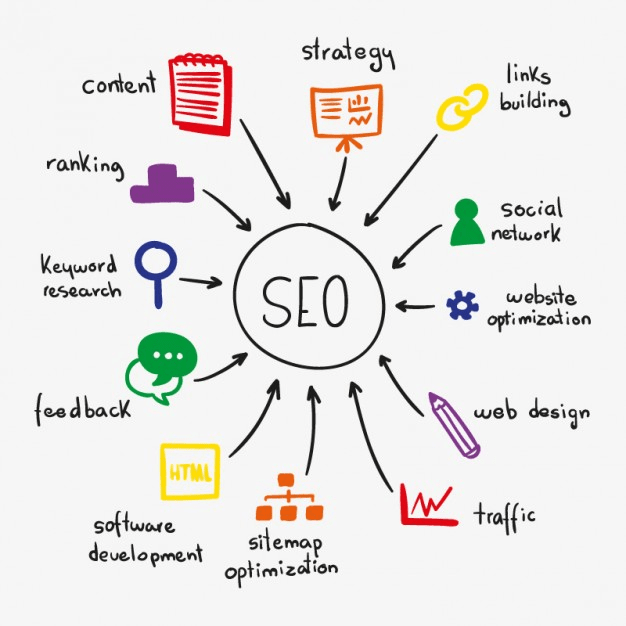 Once you have worked out your target market, you will need to work carefully on your content so that it will appeal to your prospects AND it will need to be well written for a high position in the search engine results. To succeed, you must know and apply the right SEO techniques.
Here are six tips for writing quality content and achieving a good search engine ranking:
A. Define your main keyword
Before you start writing out your content, you need to define the main theme and therefore the keyword, i.e. the main query that you want your website to answer.
To define the main query for your content, you need to determine whether web users enter the keyword and whether that word is popular among the competition.
An effective SEO strategy covers both general and competitive searches, but also terms that are more specific and less frequently used.
B. Define the semantic field for your content
Nowadays, Google is capable of assessing content in terms of quality and relevance due to the semantic field revolving around the main keyword.
This means that the robots analyzing your content will be capable of understanding the subject matter. As such, a page full of secondary keywords, synonyms and expressions relating to the main keyword will come out on top.
C. Design the structure of your content
If your content is well structured, your audience will find it more enjoyable to read and also robots will find it easier to scan.
For a high ranking, you are advised to put your keywords in the Title tag, which the search engine will include in the results page after receiving a query that matches your content.
It is also important to place the keyword in the H1 tag, which is the title of your content.
The rest of your content should be arranged in hierarchical order using the tags from H2 to H6, where it is important to put your secondary keywords.
D. Font size
Another important SEO tip is that your content should be a certain length, otherwise it will not be considered to be dense enough and may be skipped over by search engines.
To stack the odds in your favor, your text should contain at least 500 words. Overly concise content will not bring enough value to your audience, because it will not provide enough detail about the subject matter. Similarly, robots will believe that the subject matter is too skimpy and therefore not worth highlighting.
E. Ergonomic content
If your content is to be readable and effective, it must also be ergonomic and easy to understand by your target audience.
It is important to use a standard font for the entire website that is compatible with all browsers.
When it comes to content, sobriety works best. Avoid too much spacing between the letters and do not use colors that are too loud or hard to distinguish from the background.
Lastly, when looking to make your keywords stand out, use bold characters to highlight your important terms and especially make sure that you link your different contents together when covering the same subject!
Do this and the search engines will consider you to be an expert in your field.
F. Work on the visuals
To give your content an eye-catching look, feel free to illustrate your words with relevant images for even greater added value.
Your prospects may also be likely to look for answers to their questions by running a Google Images search.
It would be a shame to miss out on this opportunity of being present on Google Images.
For a high ranking in Google Images searches, you should offer lightweight images containing a meaningful title, including your keywords and featuring an "ALT" tag that appears when the image cannot be displayed.
As you have just seen, it is important to think long and hard about your content before you actually get around to putting it online.
Once you have done that, you can concentrate on the text itself.
2. Offer "educational content"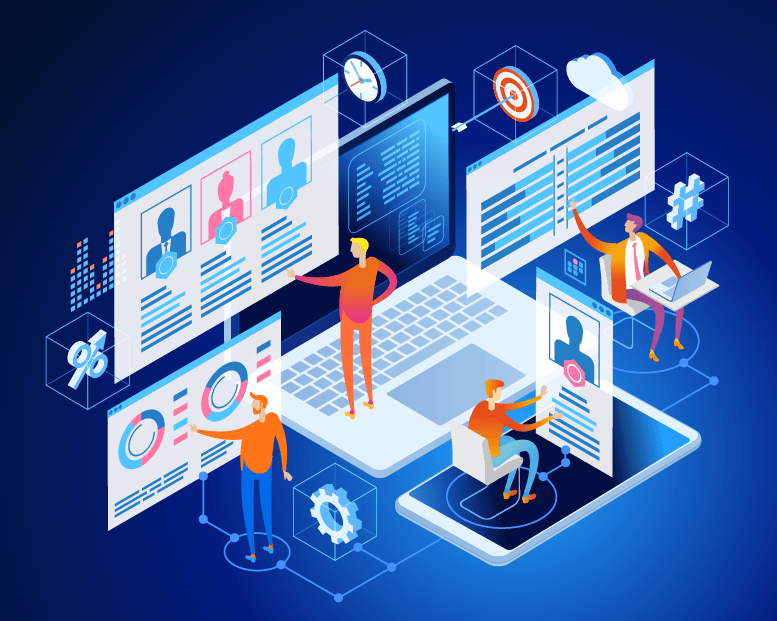 The aim is to nurture your prospects with intelligent content that will show them how your company is capable of solving their problems.
This is what is known as lead nurturing. The whole idea is to raise their awareness, so that they are fully clued into the strategic value of your actions and capable of finding the necessary resources to start fixing their problems.
Ultimately, prospects should be able to measure the benefits that your services can bring to their company and subsequently choose you as THE solution to their problems.
But how do you create educational content?
A. Define your personas
To create educational content that strikes a chord with your prospects, you need to know exactly who they are!
You will only be able to offer them quality content that perfectly matches their issues if you have first analyzed and defined your "personas".
There is no point churning our countless articles and publications if you do not know who your target audience is. it will simply be an exercise in wasting time.
Therefore, the first step involves defining your personas. This semi-fictional representation of your ideal customers will give you an insight into their needs, problems, obstacles and objections. You can then use that information to create a communication strategy that specifically addresses your prospects' problems that you have identified.
When it comes to defining a persona, you need to ask your customers questions and be familiar with what they were thinking and wondering before they actually became your customers, such as the way in which they look for information and the types the content that they enjoy reading.
Then you can cross-reference that information with web searches and finally present all the data to the sales team, which will need to make sure that your defined persona tallies with what they hear every day when prospecting for new business.
Once you have put together your persona datasheet, it is easier to define an editorial schedule that corresponds to your prospects' different questions and level of maturity.
B. Define your educational content
Educational content addresses one of the issues facing your persona and closely matches their language and questions.
Each type of content must be designed as a guide and must follow the Buyer Journey, meaning the process that buyers go through, from defining their problem and searching for solutions to adopting a solution that solves their problem.
You need to be present at each stage in the process and create content corresponding to each stage.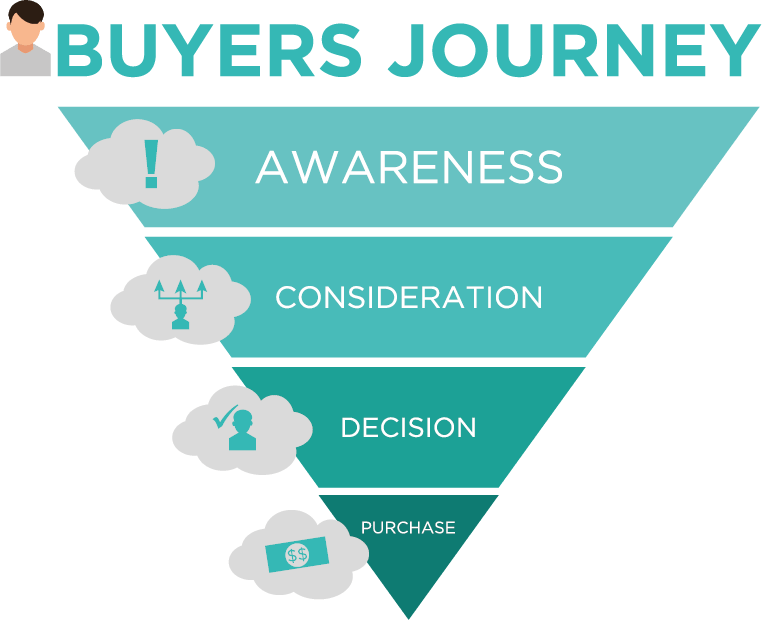 The first type of content will be "Awareness", where your prospects have just started thinking about the challenge or opportunity that they want to pursue.
Therefore, your content will be fairly generic and will address a range of issues without actually providing any tangible solutions or showcasing your company. Your content will review the situation, so that prospects can move forward, clearly define their challenge / opportunity and express their problems in clear terms.
The second type of content is "Consideration". This is the stage where the problem has been clearly identified and prospects will be actively searching for solutions.
During this phase, your content must be more specific and address the identified problem. Practical guides, detailed studies, and facts and figures are a wise choice for the consideration stage. You can also start talking about your products and services as the solution to their problem.
The third type of content is "Decision", which corresponds to the stage where prospects will clearly choose a solution to their problem.
This is where you need to market your company as THE solution to their problem. All the content that you created during the previous stages will help cement your company's reputation as an expert in your field.
Once you have identified and created the topic for your content, you will need to promote and expose it to your target audience.
C. Promote your content
Creating relevant content for your prospects may be essential, but it is pointless if they cannot see it.
Therefore, you need to promote your content. Once again, it is important to be familiar with your prospects' behavior, so that you can determine which promotional materials will create the biggest impression.
Getting your content published on your website is no excuse for putting your feet up!
SEO is the first step as we have previously seen. It is also vital to create seamless internal links between your articles dealing with the same issue for easier indexing by search engine robots and also allow visitors to improve their knowledge by reading similar articles.
Then you should use the strategies at your disposal for making your content known in the outside world.
You can share content over social networking sites, such as LinkedIn, whether your own page, your profile page or the groups visited by your target customers.
When sharing content over social networks, try to be subtle by rewording the title to avoid coming across as too promotional and make sure that you include an image for greater visibility.
To begin with, you can put your own contacts database to good use by sending out newsletters containing blog articles (if applicable) or launching email campaigns to promote a white paper or study.
Subsequently, if you want to broaden your contacts database and generate new leads, you can enlist the services of an email marketing expert with a contacts database corresponding to your target market for routing your messages.
Whether on social networking sites or search engines, you can raise the profile of your content using paid ads to boost its visibility.
Identify the authoritative blogs in your particular field and feel free to leave a comment with a link to your own content. This will ensure that people visiting those blogs spot you and visit your website, representing an indirect way of generating new leads!
Ads in third-party newsletters
Another strategy is publishing banners or advertising inserts in newsletters relating to your sector of activity. A prime example is the TraceParts newsletter on additive manufacturing, which is sent out every two months to a database of engineers and designers who have expressed an interest in this line of business.
Transform your content into "content offer"
Have you created content that includes X good reasons why industry should adopt additive manufacturing? Put those reasons in a graphical checklist that visitors can download after submitting a form. This is a relatively effortless way of obtaining new contacts.
3. Diversify your business prospecting actions
To generate new business opportunities, you should not make do with just sending out messages or using your contacts database.
You need to action strategies for generating new contacts.
Publishing new content on your blog or website will mark one step towards capturing new leads, and SEO optimization is essential.
Your website needs to be your first contacts generator, which explains why it is so important to regularly provide new content and offer downloadable content.
To reach out to an even wider audience and achieve your leads generation targets, you must find strategies for diversifying your business prospecting actions.
Communication is essential for raising your profile and creating demand!
A. Email campaigns
There are two different ways to use this strategy.
The first involves sending out communications to your installed base with the aim of informing your contacts, nurturing them during the consideration stage if they are not already customers and then converting them.
This is a highly important step because, as a marketing professional, you are also required to convert leads into customers.
The second way is to use service providers specializing in digital marketing for routing your messages across their databases.
Choosing the right service provider is critical: You should select service providers with qualified databases containing a potential audience for your company, bearing in mind that your objective is to generate quality leads!
TraceParts has compiled a database of 1.5 million opt-in industrial engineers and designers who download parts from the CAD content library every day and who may be interested in additive manufacturing.
Feel free to contact us if you would like more information about this particular subject.
B. Social networks
When you bear in mind that one in two buyers obtains information from the social networks, you realize that you should build your presence, otherwise your competitors could steal the limelight.
As we have seen, social networks are an ideal platform for promoting your content and making a name for your company among groups focusing on additive manufacturing.
By taking part in these groups, you can identify your prospects' behavior and expectations, while offering them adapted content and solutions.
Social networks represent an alternative form of communication, one that is much more direct with your audience, so remember to fine-tune your messages accordingly.
C. Online advertising
To diversify your prospecting actions and give your company greater exposure, you can implement paid ad campaigns.
Such campaigns can be set up in no time at all, and you can measure the results instantly.
For example, these types of ads on AdWords can overcome a low ranking for a given type of content and increase your company's online visibility.
It can also be seen as a "one-off" campaign to promote a specific type of content or solution.
Social networks also provide this type of service for boosting your visibility among a predefined audience.
D. Banner Ads
Publishing banner ads on websites specializing in 3D printing or on platforms visited by your target customers may improve your brand awareness and also generate new business opportunities.
You must first select which websites are going to display your ads. As with an email campaign, you need to choose the right target market!
To ensure that your banner ad campaign produces results, you will need to strike the right balance between your ad's visibility and its level of intrusion.
If you use a format that is overly intrusive and invasive for the people visiting the selected websites, you will obtain the opposite effect.
E. Webinars
If you want to educate and broaden your target market, webinars may prove to be an ideal solution for reaching out to your prospects.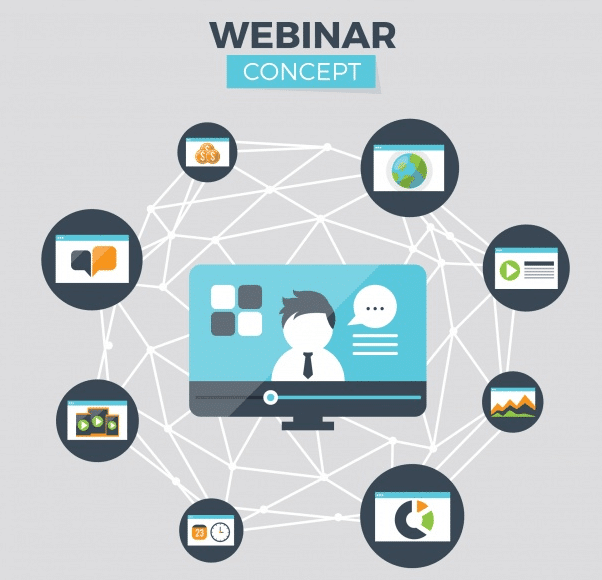 They will go as far as registering to take part in a session with your company and will therefore have dedicated their time especially for the occasion.
Webinars can be used to "educate" prospects about your solutions while enhancing your brand image, because you are bringing them a value-added service.
There are a wide variety of approaches to creating a webinar, including voice-overs, PowerPoint slides, screen sharing and front-facing camera. But the purpose is always the same, mainly educating, teaching, transmitting, sharing, showing and ultimately promoting and selling.
Live webinars are still the most effective method, because they are more interactive: you can chat directly with participants and answer their questions.
The webinar is an event in itself compared to a pre-recorded message. You can then offer a recorded version of the webinar, such as for those who enrolled but were unable to take part. This possibility allows your company to maintain contact and show that you are interested in them.
This version should be prioritized for the latest trending topics with a more limited lifespan.
Recorded webinars guarantee a high-quality end result, because everything is calibrated and polished before the recording is broadcast. This prevents any of the unforeseen incidents that can occur during a live broadcast.
With a pre-recording, participants can view the webinar at any time to suit their availability.
Recorded versions are the preferred solution for underlying topics that will still be relevant several months after broadcasting.
4. Organize offline events to broaden and convert the target market
When dealing with an immature market, you need to maximize exposure for your solutions and educate your leads.
In other words, it is important to go out to meet and speak to your prospects. Nothing can beat human relations when it comes to convincing and educating.
In the 3D printing, prototyping and 3D scanner sector, prospects want to see what 3D printers are capable of with their own eyes.
A. Trade fairs
It is a strategic move to take part in trade fairs, since they offer the ideal springboard for showcasing your expertise directly to prospective customers, as well as improving your brand awareness and widening the appeal of your sector of activity.
This will enable you to grow your network and keep abreast of the latest trends in your sector of activity.
Speaking directly with your prospects will give you a clear insight into their problems and questions, and it may prove invaluable in determining the type of content that you should create.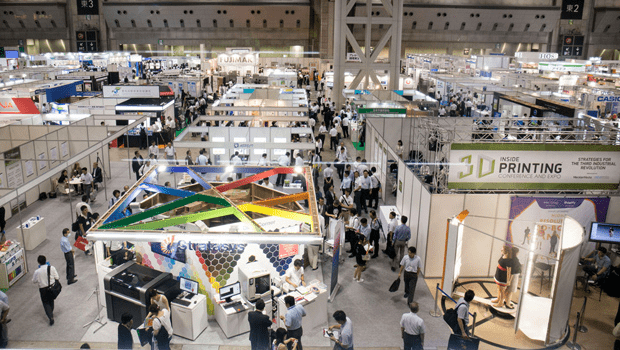 Even though taking part in such events comes at a cost, it is a precious opportunity for making a name for your company and attracting new contacts.
In a fast-growing sector such as yours where prospective customers need tangible evidence and reassurance about the technology, the ability to meet industry professionals and participate in demos may ultimately convince them. Do not let your competitors get in there first!
There is no need to take part in every trade show on additive manufacturing and 3D printing. Set your sights on the headline events that tend to generate the largest footfall.
Taking part in a trade show will give you the ideal excuse to contact your prospects before the event and invite to meet them at the show.
To give your messages a personalized feel, you can segment your prospects database by targeting the leads that you are already in contact with but have not yet converted, as well as those that you have never met before.
A word of warning… it will take more than an email campaign. Remember to spread the word over the social networks and make the most of your email signatures.
To create a buzz at their stands, exhibitors will pull out every stop to attract as many leads as possible. You can also launch a special marketing offer to coincide with the show.
Go ahead and offer demos, tests or live diagnostics, organize a competition or have a chat over a glass of champagne!
During the event, use social networks to share your photos and show prospects the faces of the people that work for your company and just how approachable your company is.
Another tip: head to the trade shows where your prospects are exhibiting and go see them at their stands!
When companies exhibit at a trade fair, they have no choice but to stay at their stand.
This is the ideal opportunity for your sales team to create a direct connection with the prospects that you have already identified.
This will save you valuable time, since you can generate a number of appointments within a limited amount of time.
Whether you are an exhibitor or visitor, take the time after the show to have a quick courteous word with all the contacts that you have met.
Thank them for visiting and for their time. Create groups according to their level of maturity and send out content corresponding to their expectations.
You have made a big enough effort to obtain your contacts, so treat them with care.
B. Roadshows
Organizing a roadshow is another method for reaching out directly to your prospects.
With the advent of the all-digital era, roadshows can bring a human edge to your relationships and put a face to your contacts. This type of event leaves a lasting impression and will give you an edge over the competition, because you have taken the time and effort to go out and meet your prospects.
Roadshows can be compared to a promotional event where your sales reps travel from city to city with the same event format to promote your products and services to your target market.
Companies tend to organize roadshows when they have a hot topic, such as launching a new product or service.
This type of event is strongly recommended in the case of additive manufacturing and 3D printing, since it will give you chance to educate your prospects and demonstrate your expertise to a chosen target group that has come along to see your brand.
In other words, you will be interacting with a highly qualified group of leads.
Generally speaking, roadshows are a hit with prospective customers, because they feel privileged and listened to, and they build trust at the very beginning of the sales relationship.
However, roadshows should be organized with military precision to ensure that your prospects go away with a positive image of your company.
If you decide to arrange such an event, take great care during the planning stages and why not involve a service provider to help you find an appropriate venue in the different cities through which the roadshow will be passing.
The communication plan should also be developed with the greatest of care to reflect the quality of your event.
All the communication and marketing strategies must be actioned to create the biggest possible buzz and attract as many prospects as possible during each stop-off. Emails, banner ads, social networks, press releases, dedicated sections on your website… you need to be everywhere at the same time.
Obviously defining your objectives (new product launch, development of your company's brand awareness, revenue growth, stronger brand image, etc.) by holding your roadshow will enable you to measure the results and benefits of the event.
How TraceParts is helping Stratasys put its 3D printing solutions on the map

Founded in 1989 by Scott Crump, Stratasys is one of the leaders in the printing market The company is headquartered in Israel, with offices in the United States, Europe, Asia, Australia, Japan and Mexico.
The company also draws strength from a global distribution network. It holds over 500 granted or pending additive manufacturing patents globally. Over 20 years ago, its founder developed the FDM technology (fused deposition modeling), one of the most widely used additive manufacturing technologies today.
Stratasys products are used in countless industries, including aerospace, defense, industrial equipment, automotive, medical, architecture and education.
In 2010, Stratasys began its partnership with TraceParts.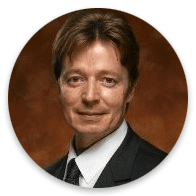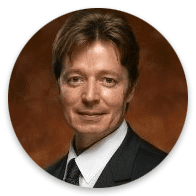 "In the manufacturing industry, there is the potential for purchasing a 3D printer when a physical prototype may be required to validate the design. That means that we need to find, inform and convince designers and their department.
Furthermore, CAD underlies rapid prototyping processes, since 3D printing requires a virtual model. Reaching out to TraceParts users seemed to be a good idea and experience has shown that we were right." explains Eric Bredin, VP Marketing EMEA.
Even today, using the digital marketing services from TraceParts allows Stratasys to achieve a wide range of objectives: spread the word about its product range, company and distribution network, and raise awareness of the new materials. The company was looking to generate sales opportunities, while increasing brand awareness and boosting traffic to its websites.
« We are delighted with the feedback », adds Eric Bredin.
« Our campaigns are fully achieving their objectives of informing potential users and promoting our products, with a fast and direct approach to our target group. This method of communication gives an almost instant way of measuring results. In addition to the relevance of the target group, we have seen that the information used to filter the emails sent is constantly updated.
It would be much harder and more expensive to address the different sectors of industry with a vertical marketing campaign. »
Just like Stratasys, several 3D printing, prototyping and 3D scanner professionals place their trust in TraceParts. They promote their range of products and services through email campaigns, banner ads and inserts in TraceParts' newsletters.
What to keep in mind
The secret is out… the 3D printing market is booming, and a growing number of manufacturers are taking an interest in this sector.
93% of companies have already invested in this technology to gain a competitive advantage by reducing the time-to-market ("State of 3D Printing" study by Sculpteo)
However, most manufacturers are still reluctant or even completely unaware of this technology.
As sector professionals, major efforts must be made to mainstream the technology.
As you have seen in this guide, several tools and strategies are available for putting your company's name on the map and generating new leads.
Feel free to enlist the support of a specialized provider to help you with the process.
Above all, respect your audience. Give them the time to learn and become familiar with the technology.
When you bear in mind that 57% of buyers go it alone through the path to purchase before speaking to a sales rep (Executive Board), it is down to you to adapt to the different stages in the buying journey, offer them content according to their level of maturity, be present at each stage and cover all the bases.
Today, digital marketing has a role to play in guiding and supporting your prospects.
This view of things has never been so close to the real picture in the 3D printing market.
Now it's over to you!
Our Digital Marketing Experts can help you with your lead generation strategy.
Categories