TraceParts allows parts suppliers to add a Request For Quotation (RFQ) option to their product catalogs published on the CAD content platform.
Both quick and easy to set up, this request quote button is displayed on each product page and enables parts suppliers to manage price enquiries both effectively and instantly.
How does it work?
After signing in, design professionals registered with the TraceParts platform can request a quote. The button takes them to a form containing the product name, part number and required quantity. They can also add comments to accompany their request.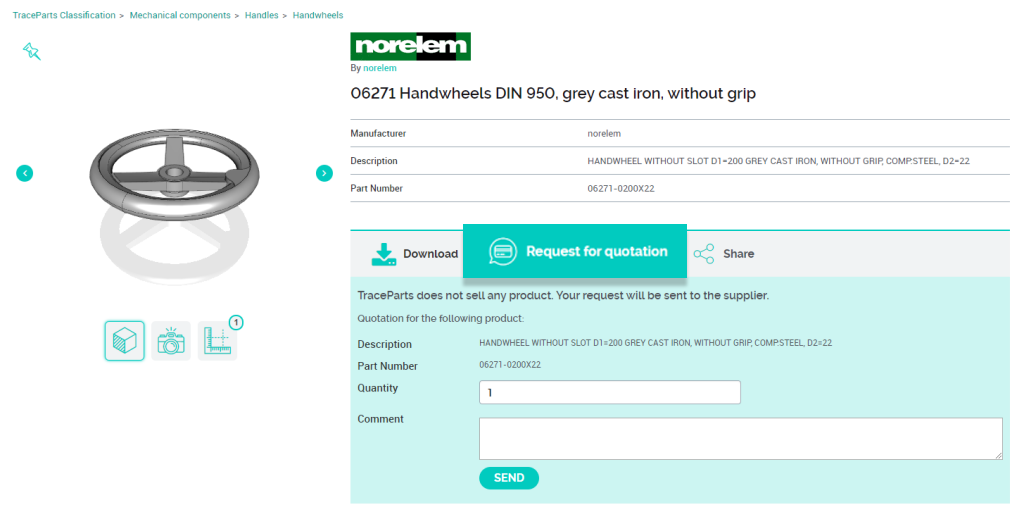 What's happening once the RFQ form has been submitted?
Once the form has been sent, the price request is emailed to the parts supplier.
The notification can be sent to a single email address or different email addresses depending on the country specified in the user's profile. These settings are predefined with the TraceParts account manager.
Parts suppliers who have already added the Request For Quotation function can now exchange messages with engineers and designers on the platform without TraceParts being involved in the communication process.
A powerful lead magnet for parts suppliers!
The Request For Quotation function is proving to be a real success among designers and engineers, since they can obtain the price as soon as they have found the CAD model for the part that they want to incorporate into their design project.

The parts suppliers who have added this option have seen a significant increase in the number of price enquiries for their products. Now it is much easier for design professionals to contact the parts supplier directly.
Quote requests can be tracked through the automatic report feature programmed in the TraceParts Analytics reporting system. Quote request data can also be viewed at any time in the TraceParts Analytics dashboard.