Founded in 1916, the VIM Company specializes in building ventilation.
Only the letter V, like Ventilation, is important to remember in the company's name, because the other words (Industrial and Mining) no longer reflect the company's current position.
Focused on the light work market in buildings –ventilation of community housing and commercial areas, professional kitchens, hospital rooms and general company premises – VIM likes to use the expression,"wherever humans are present" to describe its field of action.
VIM designs, manufactures and distributes all material related to ventilation and mechanical smoke extraction procedures (ventilators, fan and extraction units…) as well as parts (VMC inlets and outlets, diffusers…) circular ventilation duct systems or electrical cabinets.
It works in partnership with fluid engineering departments and installers (civil engineers, plumbers, electricians). It also provides installation consultancy.
In 2000, VIM joined the international group, Soler & Palau, S&P, one of the European leaders in ventilation for domestic, commercial and industrial buildings. S&P is located in 50 countries.
VIM has 150 employees in France with about one hundred in its factory in Saint-Maixent-l'École in the department of Deux-Sèvres. The remainder of the workforce is employed in sales in various regions in France.
Adding new service
VIM has lasted many years, thanks to its dynamics and desire to adapt to changing markets for customer satisfaction, as well as its ability to anticipate customer needs. In keeping with this line of strategy, the company took time in 2006 to think about how it could better help engineering departments and installers.
Patrick Coulpin, Marketing Manager at VIM, explains the reasons behind the action:
Ventilation material and all associated parts are often very large. Some components are complex assemblies. Engineering departments are constantly confronted with the problem of installing material in very constrained spaces with the compounded problem of accessibility for assembly and maintenance.
More dynamic
TraceParts, consulted for the development of the CD-ROM, rapidly brought up the issue of regularly updating data, confirms Patrick Coulpin:
Our catalog includes 20,000 products, with 60,000 items, if we take into account all of the different variations. It constantly evolves to enrich the line, as well as to modify material in order to adapt to the changing market: we can mention the example of new thermal or sound regulations as well as constant research for energy conservation.
TraceParts convinced technical and marketing teams at VIM to orient their project toward a dynamic library with online access. However, they needed to answer two main concerns in order to do that:
Wouldn't the re-drawing 3D models for simplification be too long and too costly?
Would customer download times for the models be acceptable?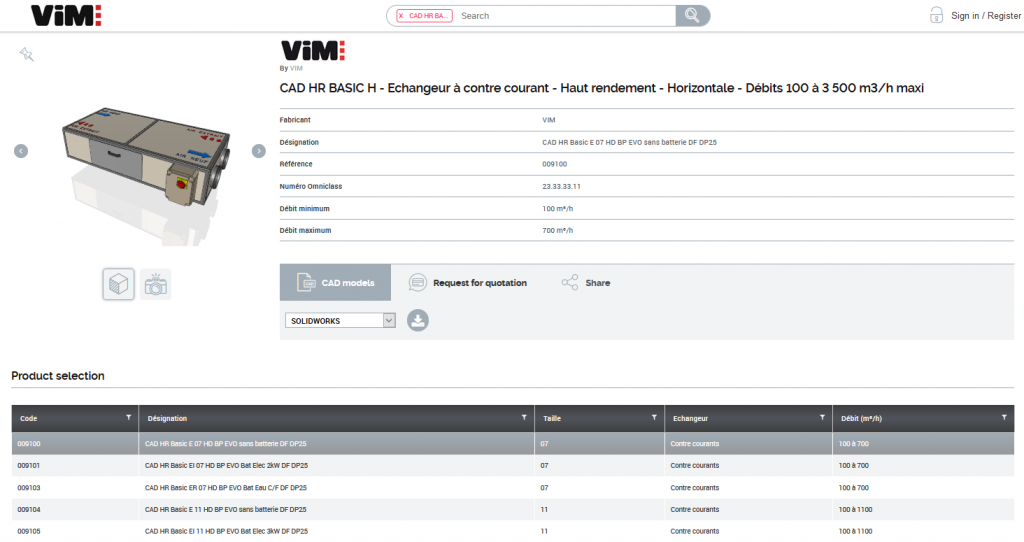 The engineering department at VIM uses 3D CAD to design equipment. However, the models that it produces do not meet production requirements. The customer needed a lighter image that included sufficient necessary information for planning installations, as well as for various evaluations.
Also, to make it easier to understand installation diagrams or 3D presentations, the material had to be easily identifiable and look like the actual parts, providing useful information such as fluid direction.
Faster
TraceParts was able to demonstrate the superiority of its techniques in comparison to other companies that were consulted to simplify and provide models in the largest variety of CAD formats imaginable. continues Patrick Coulpin
Models can be downloaded only after accessing the company's website (www.vim.fr). VIM justifies the set up of this filter by the fact that its materials and services only concern professionals and very specific markets.
The website has a public and a customer space. The customer space openly sends customers to pages on the TraceParts website that are set up with an identical graphic code.
When a model has been downloaded (along with a text file that provides all relevant information for the material), the customer is sent back to the VIM website where he/she has access to various contractual documents and dimensioning tools.
The hard copy catalog is still published, however, in keeping with CAD libraries; a PDF version is constantly updated and accessible through the website.
Patrick Coulpin did not want to rely only on his own opinion about the work that has been done and decided to ask his customers for their opinions:
We used statistical tools provided by TraceParts to analyze the success of our action, the frequency of downloads and their progression.
Patrick Coulpin is surprised when we ask him if VIM will continue to develop this service and if new references will be added to its catalog:
We are satisfied with the service and the technical quality of the models. So are our customers: we don't even ask ourselves that question!
For further information:
VIM website: www.vim.fr
"My TraceParts" solution in the "Look & Feel" of the VIM website: VIM – MyTraceParts
Contact us: info@traceparts.com