3D plastic components available to designers worldwide

igus GmbH offers its customers tens of thousands of plastic components, including whole systems. It has been possible to make them available any time, any place thanks to the CADClick technologies from KiM which have virtualized the components in 3D, as well as to TraceParts.com, which has made them available both online and offline. A process achieved with consummate ease.
Anyone browsing the comprehensive igus catalog may easily feel themselves transported back to their days of playing with Lego and Fischer toys.
Around 92,000 components are provided offering almost an endless number of design options, thus fueling the designer's desire to play…
It gets even more interesting when you learn that many components and systems can also have a customized configuration. It can all be done online, in simple steps.
Before we go into the details on this, let's start with a look at the company itself.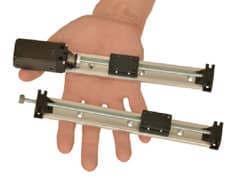 Dry running miniature linear axis from igus for positioning small loads.
Garage start-up
The company's founder Günter Blase started the business in 1964 in a garage. His original idea was to use injection molding to manufacture components that previously had to be manufactured using other, more expensive methods or from completely different materials.
Blase initially produced customized components to order. Later on, he followed his own product range. The first catalog appeared from 1979. igus has enjoyed very strong growth from these modest beginnings.
The company, headquartered in Cologne, now employs almost 2,000 workers, with around 1,000 of them at the main site. The others are spread across offices in 28 countries. It also has sales partners in 42 countries around the world, thus making igus a real global player.
However, around 90% of the 92,000 or so components mentioned earlier are produced in Cologne. This allows the company itself to have all the attributes it needs available and to respond quickly and flexibly to customer requirements.
All our products have two inherent features: either they are cheaper than rival products or they last longer, and often both apply too. comments the company's press officer, Jörg Landgraf
Every year igus develops around 1,500 to 2,500 new products and product enhancements.
The Cologne-based company's major product lines are plastic plain bearings, energy chains and automation components.
Successful partners for components online
The components and systems supplied by igus are typical installation parts for designers at companies involved in developing applications. Ideally, they want to be able to transfer directly these components virtually – nowadays as 3D models – in the CAD format they need, without having to redesign them.
This is why we had originally started to virtualize our components ourselves and supply them in DXF format. says Joschi Rohe, Head of Electronic Media at igus
This involved a great deal of work and its downside was that the components were static and could not be influenced any more by the customer. The desire of many customers to use other CAD formats and igus's desire to produce not the original geometries but "slimmed down" models led in 1999 to the search for a competent service provider.
This was KiM, which has produced a smart connection to our expert system for energy chains. It turned out to be a good choice, as it still is even today. recalls Rohe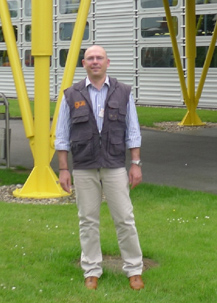 Joschi Rohe, Head of Electronic Media at igus in Cologne
igus, which has been our customer for many years, is extremely innovative and values customer service highly. This means that the end customer's job is made very easy thanks to a host of software tools.
The current process therefore involves an external service provider initially preparing the data, due to the current high product volume. The data then goes to KiM, which processes it further (which includes creating different language versions and configurations).
Finally, the product models are passed on via KiM with all the additional information to TraceParts where they are published on TraceParts.com and on the TraceParts DVD.
I would also like to mention that we don't create any geometries at TraceParts. Since we are using on TraceParts the CADClick kernel, a technology from KiM, we can import the data directly from KiM customers. This means that users worldwide can choose which route they want to take. remarks Christian Baumgärtner, MD of TraceParts, based in Amberg, Germany, explaining how they collaborate with KiM and igus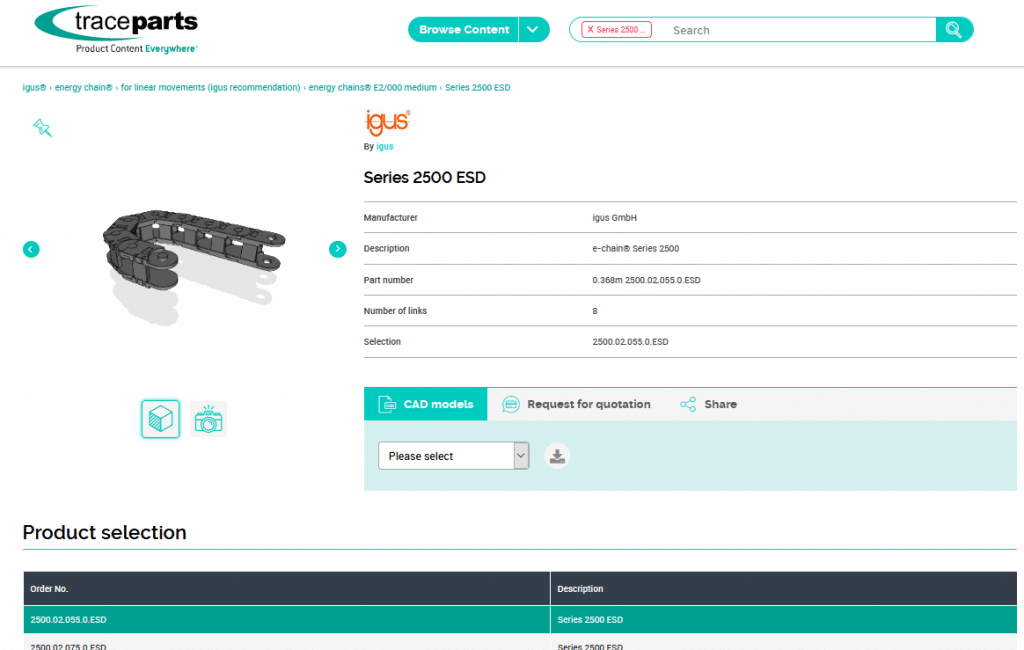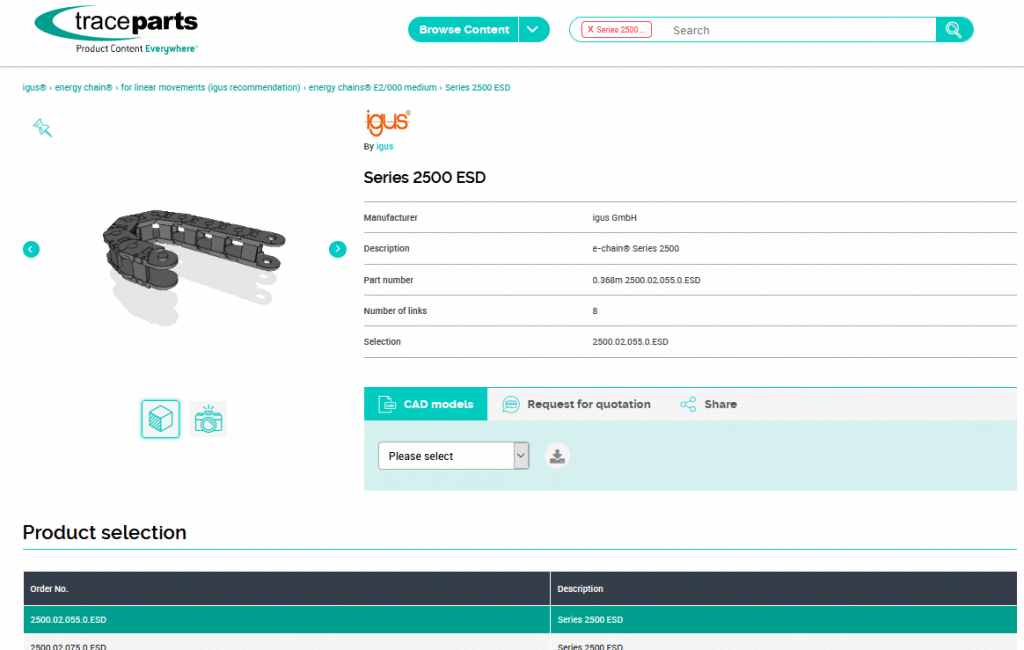 Choosing an energy chain for circular and spiral motions via the TraceParts portal.
Access via the igus homepage offers a significant advantage. Thanks to KiM's CADClick configuration technology, specific product configurations have been created on this page allowing user-specific solutions to be generated for a number of components or systems, therefore not directly as a catalog item. In this way, igus offers its customers an innovative service.
Let's take an energy chain as an example. It can have travel lengths ranging from 10 cm to 800 m. Not to mention that cables can be inserted and the internal compartments can be arranged in very different ways. explains Joschi Rohe
This process is very beneficial to both the component manufacturer and user. igus requires no or only little effort in handling a specific product design, thus saving days for each request.
Users also have the option, 24/7 from any location, to have their specific solution created, which they can obtain immediately and integrate.
3D PDF files can also be created in this manner and transferred to the user. igus also offers a completely identical offline library that can be downloaded for anyone who is unable or not allowed to work online. It was also created by KiM.
Past experience and looking to the future
The experiences thus far with the solution described have been "positive for years". As Rohe says :
This has been very well received by customers and we have a huge number of downloads for the 3D models. The system operates reliably.
He gives the same upbeat assessment of the cooperation with partners TraceParts and KiM:
We feel that we're getting a good service that runs smoothly, and they are always open to new ideas from us.
There are more of these for the future. They would also even like to animate the CAD models.
We expect that it will benefit users if they can simulate the motion of not only our robot components but also our energy chains. It will help to achieve a reliable layout. This is something that we'll work on with our partners.
For further information:
Igus: www.igus.com
Kim: www.cadclick.de
Igus CAD data on TraceParts: www.traceparts.com
Contact us: info@traceparts.com