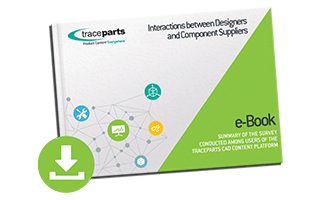 TraceParts has published an e-Book about interactions between component suppliers and designers
---
How can you get a better understanding of the users on the TraceParts CAD platform? In answer to this question, TraceParts has produced an e-Book presenting the results of a study conducted among more than 150,000 users of its platform.
Saint-Romain, France – 3 May 2017. With 69 million CAD models downloaded in 2016, the TraceParts platform is a key tool for people working in the CAD and design sector. To have a better understanding of its users, TraceParts asked over 150,000 design engineers a series of questions covering several topics: how they approach their work and projects, their expectations and working habits.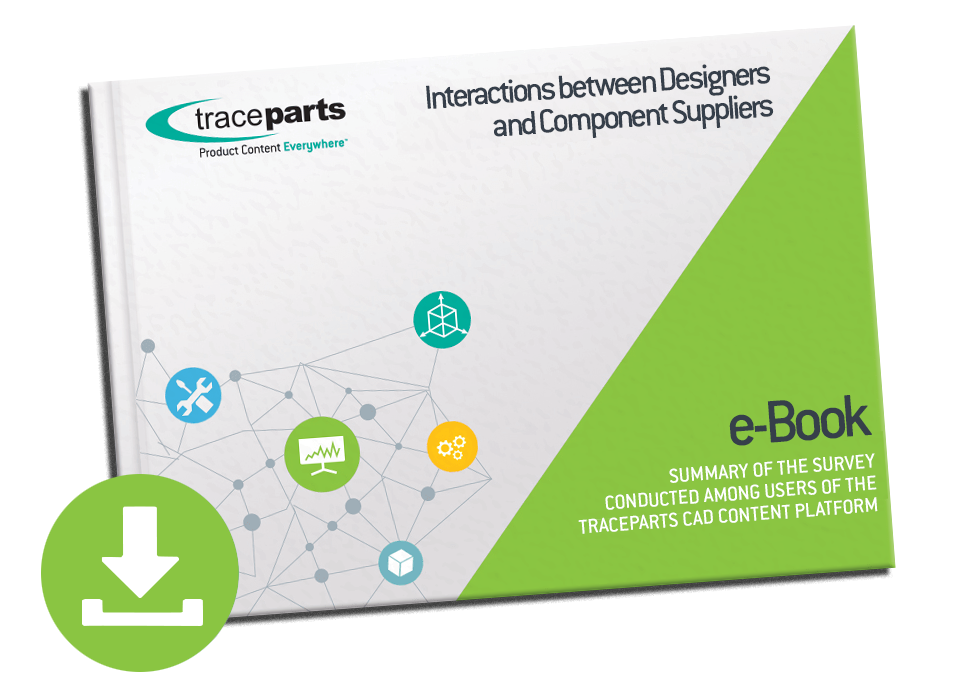 What does the study teach us and what are the key indicators it provides?
86% of users plan to purchase a component after downloading its CAD model.
88% of users prefer to work with suppliers who propose CAD models of their products.
77% of design professionals surveyed said they had identified several new component suppliers.
37% of users on the TraceParts CAD content platform regularly work with smartphones and tablets.
Today, a total of 658 industrial component suppliers have joined the TraceParts platform, meaning design professionals around the world have more than 100 million 2D plans and 3D files at their disposal to download. Each new catalog published generates an average of 5,000 new leads a year and 86% of the design engineers already registered on the TraceParts platform regularly visit the platform to look for components for their projects.
The e-Book groups together all the statistics about how design professionals approach their work and projects, including their expectations and working habits. It can be downloaded free of charge at the following page: https://go.traceparts.com/survey-results-interactions-between-designers-and-component-suppliers

About TraceParts
TraceParts is one of the world's leading providers of 3D digital content for engineering. As part of the Trace Group founded in 1990, the company provides powerful web-based solutions, such as CAD part libraries, electronic catalogs and product configurators.
TraceParts offers digital marketing services to help part vendors, 3D printing suppliers, software and computer hardware vendors promote their products and services and generate high-quality B2B sales leads.
The
TraceParts
portal is available free-of-charge to millions of CAD users worldwide. It provides access to hundreds of supplier catalogs and more than 100 million CAD models and product data-sheets that perfectly meet the specific needs of design, purchasing, manufacturing and maintenance processes and operations.
Categories