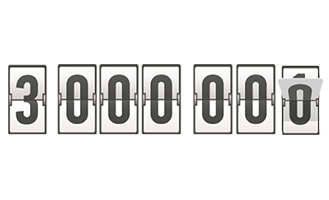 3 million registered users on the TraceParts CAD content platform!
---
The online CAD content platform continues to attract an increasing number of professionals from the design sector by providing unlimited, free access to hundreds of millions of standard components.
Saint-Romain, France, 18 October 2017 – TraceParts, one of the world's leading providers of 3D-marketing solutions, announces strong growth in the number of users registered on its online CAD-content platform.
The TraceParts CAD content platform was launched in July 2001 and has constantly grown in popularity since its release. In January 2011, the platform had 1 million registered users. Three years later, in December 2014, the two million mark was reached. Today, the platform has reached a new milestone with 3 million registered users, representing 1 million additional users in less than three years!

The platform's success is due to the fact new product ranges are added to the TraceParts library on a daily basis, meaning engineers and design professionals have access to a vast selection of standard components, all instantly available with full technical specifications and 3D models. Moreover, the CAD models can be downloaded in all major native and neutral formats, which facilitates the design process for users.
The TraceParts team is extremely proud to have reached 3 million registered users on our CAD platform. This was one of our goals for the year and we now aim to reach 4 million registered users within two years. As always, we will continue to listen to engineers and design professionals in order to constantly improve the platform to meet their needs,
says Bertrand Cressent, Product Manager at TraceParts.
About TraceParts
TraceParts is one of the world's leading providers of 3D digital content for engineering. As part of the Trace Group founded in 1990, the company provides powerful web-based solutions, such as CAD part libraries, electronic catalogs and product configurators.
TraceParts offers digital marketing services to help part vendors, 3D printing suppliers, software and computer hardware vendors promote their products and services and generate high-quality B2B sales leads.
The
TraceParts
portal is available free-of-charge to millions of CAD users worldwide. It provides access to hundreds of supplier catalogs and more than 100 million CAD models and product data-sheets that perfectly meet the specific needs of design, purchasing, manufacturing and maintenance processes and operations.
Categories