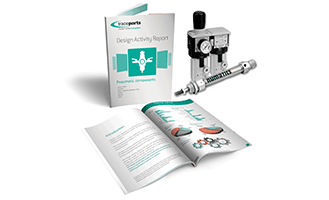 TraceParts publishes its annual activity report on the use of pneumatic components in design projects
---
In 2016, industrial design professionals downloaded thousands of CAD files of pneumatic components from the TraceParts Publishing Network.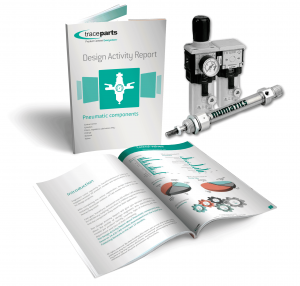 Saint-Romain, France; January 25, 2017 – TraceParts, a world-leading supplier of 3D digital content, has produced a detailed report about downloads of pneumatic-component CAD models according to product family, country and area of activity.
With an average of almost 60 million CAD models every year to over 16.5 million design professionals, the trend for downloading CAD files shows no signs of weakening among design and engineering firms. Today engineers spend hours scouring the web in search of the 3D CAD models that they need for their designs; however, that time is wisely spent, since being able to find the right component online saves them from having to design parts from scratch!
On the TraceParts CAD platform, design professionals have direct access to the technical specifications and CAD models of millions of product families. As such, in just a few clicks, they can look up, compare and validate the certified components that they need for their industrial projects
That is why so many suppliers and distributors of pneumatic components have implemented 3D marketing strategies with TraceParts, thereby enabling designers who require pneumatic components (such as connectors, cylinders, valves and countless other parts) to validate and incorporate such components directly into their design project in a format that is compatible with their CAD software. By having their components selected during the design phase, pneumatic-component suppliers can keep abreast of the latest projects in progress and provide both their existing and prospective customers with technical and sales support.
The latest design report on pneumatic components from TraceParts provides detailed data about the CAD files downloaded in 2016 according to product family, country and sector of activity. It will give suppliers an insight into where the pneumatic components market will be heading in 2017.
The TraceParts activity report on pneumatic components is available free of charge from the traceparts.com/publish-your-3d-product-catalogs/product-ranges/pneumatics/ page.
Industrial component suppliers looking for more information about publishing their 3D product catalog can visit www.traceparts.com
About TraceParts
TraceParts is one of the world's leading CAD-content platforms for Engineering, Industrial Equipment and Machine Design, totaling 4.3 million registered members from 1.2 million companies actively sourcing product information and technical data from over 195 different countries.
As part of the Trace Group founded in 1990, TraceParts brings highly targeted marketing exposure to more than 800 customers of all sizes and from all industries, via powerful cloud-based API and SaaS applications such as CAD part libraries, product catalogs and configurators.
TraceParts' comprehensive Digital Marketing Services help part manufacturers and distributors, 3D printing & rapid-prototyping suppliers, CAD/CAM/CAE/ECAD software and computer hardware vendors promote their products and services and generate highly qualified sales leads.
Available free-of-charge to millions of Engineers & Designers worldwide, the TraceParts CAD-content platform provides access to over 1,100 supplier-certified product catalogs and billions of 2D drawings & 3D CAD models and product datasheets that perfectly match the digitalization needs of Design, Purchasing, Manufacturing and Maintenance processes & operations, in virtually any industrial sector.
Categories