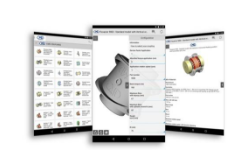 The 3D models of CMD Couplings' products on a mobile application
---
TraceParts develops a new mobile application for its customer CMD Couplings. The objective is to improve user experience!
Saint-Romain, France – 30 March 2017 – It's now five years since the French company CMD started using the TraceParts CAD content platform to publish its coupling catalog online, notably for its flagship product ranges Flexacier and Flexident. This opened up new sales opportunities on a daily basis for CMD, a company specialized in designing and manufacturing grid spring and tooth couplings.
However, the partnership with TraceParts does not stop there… CMD Couplings wanted to improve customer experience by providing its customers, representatives and distributors with a comprehensive new tool to present 2D and 3D models of its products and plans, along with its manuals and catalogs.

We wanted to create an application to showcase our products through an interactive library with efficient filters, emphasizing the technical aspects of our components.
explains Charles Dubut, Sales and Marketing Manager at CMD Couplings.
CMD Couplings therefore decided to commission TraceParts to design and develop its new mobile application. TraceParts successfully delivered an innovative, user-friendly application with a 3D viewer for each product in CMD Couplings' catalog.
What are the benefits of this application for users?
For designers and engineers. The mobile application provides easy access to CAD content by optimizing the customer search process and navigation. For example, search filters with "service factor", "absorbed power" and "operating speed" enable users to quickly find the references they need, and therefore save time.
For the sales force, representatives and distributors. The application is a genuine sales tool. Using a mobile device, sales people can present constantly-updated product ranges to customers; they can also send them 3D models, consult technical data, product features and advantages.
We are well established and represented internationally thanks to our distribution network and our own sales force. Our aim in developing of this mobile application was to offer our sales people and representatives an easy-to-use, modern tool that provides access to catalogs in 6 languages (Russian, French, Spanish, Chinese, English and German).
explains Emilie Compeyron, Communication Manager at CMD.
The application is available for free via App Store or Google Play:
About CMD
Founded more than 100 years ago, CMD is a French company that was a pioneer in the production of high-torque, low-speed transmission systems: standard and special gear units, couplings. CMD works with customers in the energy, metallurgy and mining sectors, as well as the sugar, cement and rubber industries. For nearly a century, CMD Couplings has stood out in the market thanks to the development of revolutionary technology, and created the FLEXACIER range of flexible mechanical coupling systems. Company website: http://cmd-couplings.com/fr/
For any further information, please contact: couplings@cmdgears.com
About TraceParts
TraceParts is one of the world's leading providers of 3D digital content for engineering. As part of the Trace Group founded in 1990, the company provides powerful web-based solutions, such as CAD part libraries, electronic catalogs and product configurators.
TraceParts offers digital marketing services to help part vendors, 3D printing suppliers, software and computer hardware vendors promote their products and services and generate high-quality B2B sales leads.
The
TraceParts
portal is available free-of-charge to millions of CAD users worldwide. It provides access to hundreds of supplier catalogs and more than 100 million CAD models and product data-sheets that perfectly meet the specific needs of design, purchasing, manufacturing and maintenance processes and operations.
Categories